7 Things You Shouldn't Be Cleaning with Paper Towels
If you stop to think about it, most things can be cleaned with a reusable sponge or cloth. Save paper (and cash!) with these expert tips.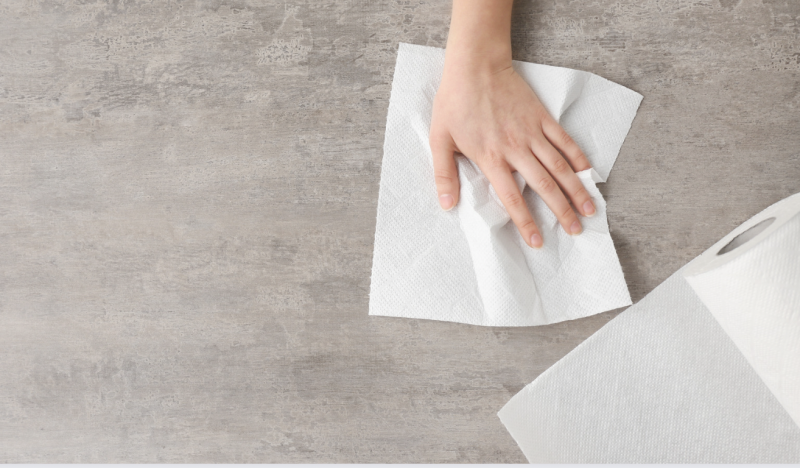 1. The tub
Think twice before reaching for the paper towel to remove that icky residue from your sink, shower or bathtub. The best way to remove soap scum (residue) from your bathroom is to use a mixture of vinegar with Dawn dish soap to cut through the grime, then wipe with a clean cloth.
2. Wiping your hands while cooking
It's easy to just grab a sheet off the roll to dry your greasy, sticky fingers, but try to resist. It's better to wear an apron while cooking, and chances are you've got one hanging in the kitchen you've been neglecting. You'll not only save paper as you cook, but you'll also protect your clothing in the process. Just wipe your hands on the apron after washing them, and move on to the next step in your cooking process.
3. Carpets and rugs
Accidentally spill soda on the rug? Don't reach for the paper towel. Wiping up spills or scrubbing stains with a paper towel will leave paper residue on carpeting, and it does not do a thorough job of wiping up. Instead, use a clean dry cloth to soak up spills, let it dry, then vacuum.
4. Dinner plates
Wiping kitchen plates and cups with paper towels because they've been sitting unused in the cupboard for a while is a bad idea. This would be anything but nature-friendly. Use a rag or damp cloth instead to wipe off those plates or mugs.
5. Electronic screens
Keep paper towels far away from your TV screen, laptop, and even your cell phone. We would never recommend using paper towels on delicate glass surfaces like LCD or plasma TV screens. The fibres can cause permanent etching of the screen. Instead, use a product and microfibre cloth designed specifically for these surfaces. It's also important to not apply too much pressure when cleaning these screens, because it may cause damage to the crystals inside an LCD.
6. Cutting boards
When cleaning up stains such as meat juices on a wooden surface like a cutting board, do not use a paper towel as it will not thoroughly soak up all of the liquid. Use a clean, damp cloth with disinfectant on it to remove all residue.
7. Eyeglasses
Raw paper can be hard enough to scratch your lenses, and it will leave lint," says Monash. "Instead, always use microfibre cloths as it cuts the oils that cause smudges and wipes them away.