7 Crochet Tips for Beginners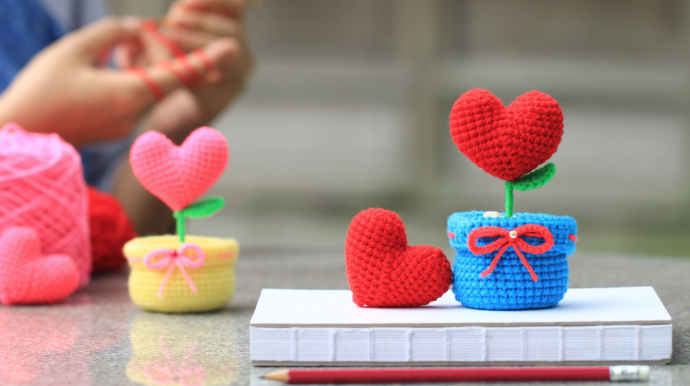 Hello, my dear crocheters! Today I am going to share with you some simple ideas on how to improve your crochet knowledge & skills to help you crochet like a pro. Here you will find some helpful and handy crochet hacks and storage tricks that will make crocheting easier and help keep your crochet supplies organized. Happy crocheting!
Tip # 1.
Keep skeins and balls from getting tangled by cutting a hole in the top of an empty plastic coffee container, then melting the edges of the hole with a lighter or match to keep the wool from snagging. If you have several projects going at the same time, use labels or tape on the tops or sides of each container to write the project name and other important information. Tape a small bit of dryer sheet to the inside of each lid to keep the wool smelling good and prevent static.
Tip # 2.
Use a three-ring binder with clear sheet protectors to organize your patterns. Use a pencil pouch also with three holes for extra hooks, gauge check, and anything else you need to keep handy.
Tip # 3.
When you open a new crochet ball of thread, take the paper and put it inside the center of the ball. Then, when you need new thread, you'll have the color and all the information for your next ball of thread.
Tip # 4.
Use a tooth brush holder to hold your hooks. It's easy to find and you can drop hooks in your purse and go.
Tip # 5.
To store scrap yarn, buy an inexpensive collapsible hamper, put the same color yarns in plastic grocery bags and store all the bags in the hamper.
Tip # 6.
Take a two-liter plastic bottle and cut the middle to make a door. Then place your large yarn inside and pull the string through the neck. It keeps the 8oz yarn organized.
Tip # 7.
To prevent woven-in ends from coming loose, weave on a diagonal line instead of straight up or across.