8 Great Tips to Organize and Declutter a Bathroom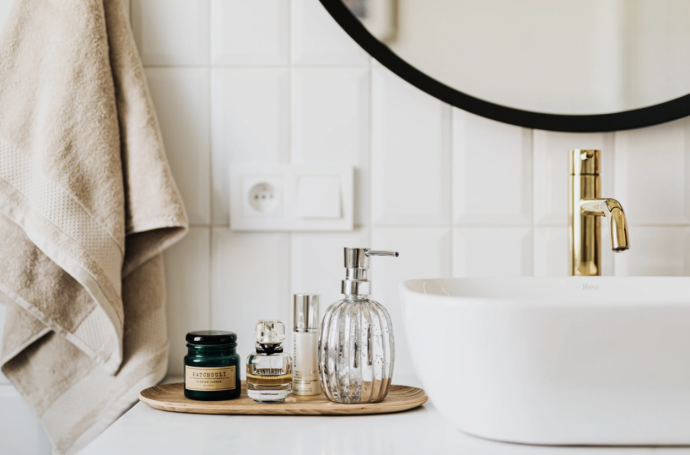 A tidy bathroom is more relaxing and usually easier to keep clean. Compare a shower where shampoo bottles and soap fall on your feet to one where all the products you need are easily accessible in one container. No matter how small or awkward your bathroom is, you can always take steps to make it as clutter-free and functional as possible. Learn some tips for organizing a bathroom, including organizing bathroom drawers and cabinets, organizing your bathroom counter, and bathroom organization ideas.
1. Use Bathroom Organizers
After decluttering your bathroom, consider getting new bathroom organizers or storage products for the items you're keeping. Bathroom organizers are an especially great way to organize a small bathroom with little or no storage space. For example, if you have a lot of bulky towels or extra paper goods, you may need a bathroom organizer such as a plastic drawer. And if you keep a lot of small items like makeup and hair ties in your drawers, you might benefit from some small baskets to keep things organized. Be sure to bring in products that fit your space and items. This is key to making a small bathroom more functional. Otherwise, the organizing systems themselves could become clutter.
2. Organize the linen closet
Your linen closet can be either inside or outside your bathroom. But most people keep at least some bathroom items in it, such as towels. So when organizing your bathroom, don't disregard this area. First of all, determine what you want to keep in the cabinet. In addition to towels and washcloths, you can also store things here that you don't necessarily need in the bathroom, such as extra tissues. Arrange everything in the cabinet so that the most frequently used items are in the front on easily accessible shelves. You can collect smaller items, such as washcloths, in a storage basket so they're easy to find. Make sure everything is neatly folded and stacked to make the best use of space.
3. Organize towels
Hanging towels in a small bathroom can be a challenge. If you don't have wall space for a towel bar, consider a towel rack that fits over the bathroom door. These shelves often have bars for multiple towels and sometimes even shelves to maximize storage space. A ladder shelf that leans against the wall and maximizes vertical storage space can also be a good option. There are also small bars that fit over a closet door for towels.
4. Organize the shower and bathtub
Showers and bathtubs can be difficult to keep organized because they aren't always built with storage space in mind. Some have cabinets or shelves where you can store your bottles and soaps, but in other bathrooms, you're left with just the edge of the bathtub for storage. Still, having your bath products within reach is a must. If necessary, you can add a shower basket that is suitable for your products. Any shower tray you use should be reliably sturdy. Be wary of soap dishes or trays that cling to the wall, and towering trays that claim to stand perfectly upright in the corner of the tub. They may not stand up to your daily routine.
5. Organize the countertop
The most important thing when organizing your bathroom is to keep as few items on it as possible. For one, this makes it easier to clean the countertop. Also, keeping only a few select items on the countertop will reduce the likelihood of items accumulating and becoming clutter.
When setting up a sink area in the bathroom, always keep items where they'll be used most often. Hand soap, for example, should be stored right next to the sink. You may also want to keep hand lotion there, or the product you use daily to wash your face.
6. Organize the cabinets
The way you organize your bathroom cabinets will largely depend on the space you have available and how your items fit in. For example, if your bathroom has a medicine cabinet, you should reserve it for the items you use most often and need to be easily accessible, like toothpaste or contact lenses. Be careful not to pack the cabinet too full so that items fall out when you open it. Cabinets under the sink work well for storing bathroom cleaning products in a container that you can easily remove and use. You can also use this space for extra shampoo bottles, toothpaste tubes and other products you don't need every day. It can be helpful to add drawers to the cabinets to maximize vertical storage space.
7. Organize the drawers
What you store in your bathroom drawers is entirely up to you. Just make sure they don't become junk drawers where random items get jumbled and buried. Drawer organizers can be helpful in organizing bathroom drawers. They can help keep items organized and easy to reach. Remember that you don't have to fill all your drawers, especially if you tend to hide clutter in your drawers. Each drawer should have a specific purpose. A functional system for organizing the bathroom
8. Organize the Vanity
If you have a vanity, you probably have a good sense of which part of your morning routine you prefer to do there. So organize the items you keep on your vanity (makeup, moisturizer, etc.) according to how you realistically use them. Likewise, organize beauty and grooming tools as you use them.