8 Coconut Oil Hacks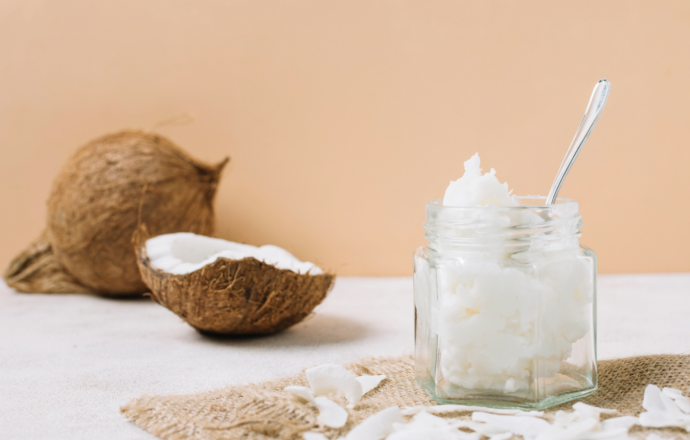 Coconut oil is known as a wonderful multipurpose, adaptable substance that can be used around the house. It's not only helpful in baking and cooking; it is also beneficial for health and beauty. Coconut oil is not only an extremely tasty superfood, but it can be also used to clean a wide variety of household items!
1. Use coconut oil as a moisturizer for your skin
Coconut oil is a great moisturizer, that is natural and healthy for the skin. Moreover, coconut oil has been found to have UV filters which block out the harmful effects of the sun. Simply warm it up between your palms and apply the melted coconut oil directly to your skin.
2. Make a dairy-free dessert
If you are lactose intolerant or just want to reduce your daily use of regular butter, use coconut butter instead.
3. Remove crayon easily from walls
Little ones are bound to get a hold of a crayon from time to time, and when that happens, you can use coconut oil to fix the problem. To remove crayon from a wall, rub coconut oil on the wall. This tips also works for removing scuff marks off the floor.
4. Use as a natural bug repellent
Keeping pesky mosquitos or other bugs away can be a royal pain. And bug repellents are pretty disgusting. So try this: make your own natural bug repellent that smells lovely and moisturizes your skin at the same time. Combine coconut oil with essential oils that have bug-repellant properties (take peppermint, citronella, or lavender essential oils). Then apply a little, and you have an awesome homemade bug repellent.
5. Smooth out your split ends
Using coconut oil to help smooth split ends helps make your hair look healthier. Rub a pea-sized amount of the oil between your hands and run it through the ends of your hair.
6. Make your own makeup remover
Coconut oil also works great as a makeup remover. Gentle to your face, coconut oil contains none of the harsh chemicals that other makeup removers do. To use, melt the oil using the heat of your hand and gently massage it into your skin. Wring out a hot washcloth and rub your face until all the makeup has been removed.
7. Soothe your pet's skin
Coconut oil has numerous benefits that you can even use it on your pet. One way you can use it for your beloved pet is for soothing dry, itchy skin. You can let your pet consume 1 teaspoon or less of natural coconut oil or rub the oil directly on the dry skin. As soon as the oil soaks in, it should make a noticeable difference.
8. Buff and shine stainless steel
Try coconut oil, if you want to clean up stainless steel items. All you need is a microfiber cleaning cloth or old T-shirt. Rub on a small amount of coconut oil onto the surface using long strokes. Then buff it out with the cloth. Your stainless steel surfaces will look like new.
Do you use coconut oil at home? Tell me in comments!