7 Awesome Ways to Reuse Shoe Boxes at Home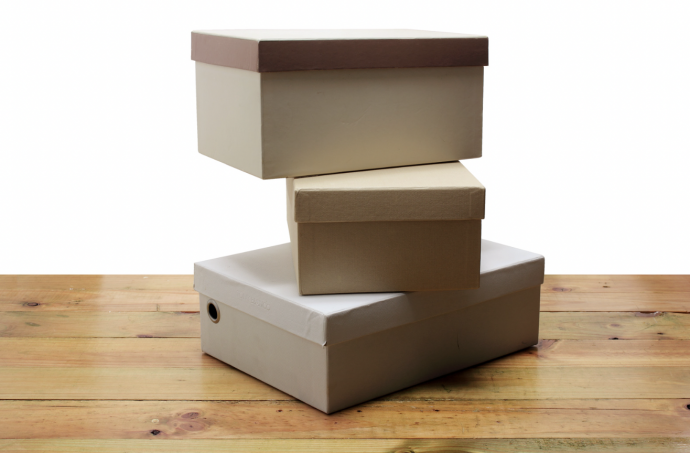 Shoe boxes. They protect our precious shoes from the time they're made and shipped to the retailer until the moment we bring them home. After that, most of us throw the box in the trash or recycle it to save space in our closet. But what if there was a way to reuse your shoe boxes?
1. Craft a gift ribbon dispenser
You'll thank yourself every time you look for ribbon when you use a shoebox to make this handy ribbon dispenser. Take a used broom handle or a piece of a bamboo garden stake - anything you can use as a small dowel - and cut it slightly longer than the length of the shoebox. Cut two holes for the dowel, one at each short end of the box, at a height where a reel of tape would spin freely on the dowel. Slide the reels of tape onto the dowel as you push it through from one end of the shoebox to the other. Once the dowel is in place, you can tape it on both short ends to keep it from sliding out. You can also cut holes for each roll of ribbon on one long side of the shoebox and pull a small piece of each ribbon through the hole.
2. Use as a litter box
If you have puppies or kittens on the way, reduce the risk of the mother rolling over and smothering a newborn by placing one or more puppies or kittens in a towel-lined shoebox while the others are being born.
3. Get your stuff in order
Besides collecting old photos and receipts, there are many other ways you can use shoeboxes to keep things tidy. Label the boxes and keep mementos, voided checks, bills to pay and other things you want to keep track of in them. For a nicer look, you can stick colored contact or other self-adhesive paper on the boxes.
4. Homemade charging station
The concept for this upcycling project is very similar to the ribbon organizer. You can turn a shoebox into a handy charging station. You won't have to worry about where the right charger is because you can keep them all neatly in one place.
5. Earring organizer
Tired of searching for that missing earring in the morning rush? It can be easy to misplace an earring when they're all jumbled up in a jewelry box. You can put an end to the madness by making an earring organizer out of a shoebox. Just poke a few holes in the lid and you'll have the perfect place for your earrings so you can always find them.
6. Seed organizer box
Need an easy way to organize your seeds while you wait for spring? Simply craft your own seed box out of two shoe boxes. This will keep everything neatly in one place and you won't find any more spilled seed packets (not that I've ever experienced that!).
7. Two-tier sewing kit
Having trouble keeping your sewing supplies organized? Keep them handy with this two-tier sewing kit. You'll need a shoebox and other upcycled materials from your household, plus pretty paper to bring your sewing kit to life.