6 Smart Storage Solutions to Organize Your Cleaning Supplies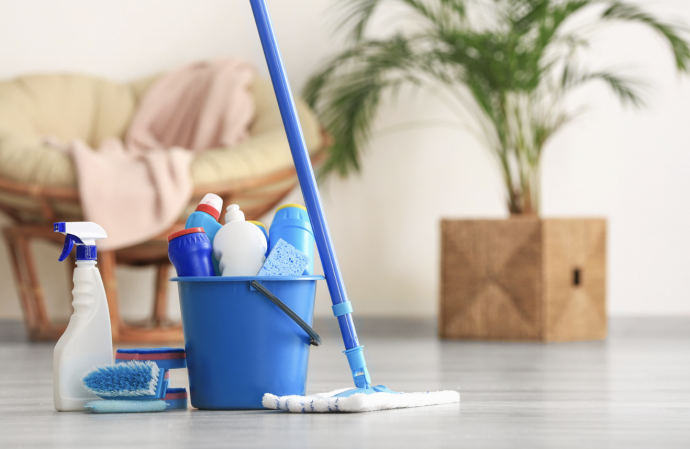 Cleaning supplies - including brooms, mops and spray bottles - are among the most difficult items to store. First, they have an awkward size and shape. They also fall over at the slightest shake or breeze. And if we're being completely honest, no one wants a collection of mismatched cleaning supplies to take center stage. (Even in a closet!) We're here to help, with lots of clever and creative storage ideas!
Here are 6 of my favorite solutions for storing brooms, mops, spray bottles, cloths and more.
1. Use hooks and zip ties.
We love the idea of hooks for all kinds of storage - especially dusters and mops. You can put hooks on an open wall in a pantry, on the back of a closet door, or even on the wall leading down to the basement stairs. If your cleaning tool won't fit over the hook, simply attach a zip tie to the handle to form a loop.
2. Invest in a wall-mounted hanger.
If you're looking for something more official, try a wall hanger that's specifically designed to hold the broom and Swiffer neck securely. You can (quite easily) attach such a hanger to the same places where we suggested the hooks!
3. Try a wall-mounted organizer system that can be moved around.
If you don't have a free wall for something like the holder above, you might like this organizer. It also attaches to the wall, but it slides so it can be tucked away in a small gap, such as between the refrigerator and the wall.
4. Continue to use a shoe organizer.
Hang your cleaning supplies in a shoe organizer with clear compartments so you can easily see and find everything you need. Put sprays in one row, sponges in another, cloths in another ... You'll be amazed at how much you can fit in one organizer.
5. Hang a towel bar.
Attach a sturdy towel bar and hang the handles of your spray bottles on the bar. They'll hang there until you need to grab one. You can even attach S-hooks to hang dusters and hand brooms to keep everything in one place.
6. Set up a cleaning basket.
Fill a cleaning basket with all of your kitchen cleaning utensils. Not only will this help you stay organized, but it'll also make it easier to grab everything you need in one fell swoop. Tip: Make another one for the bathroom and store it under the sink.