Homemade Lip Balm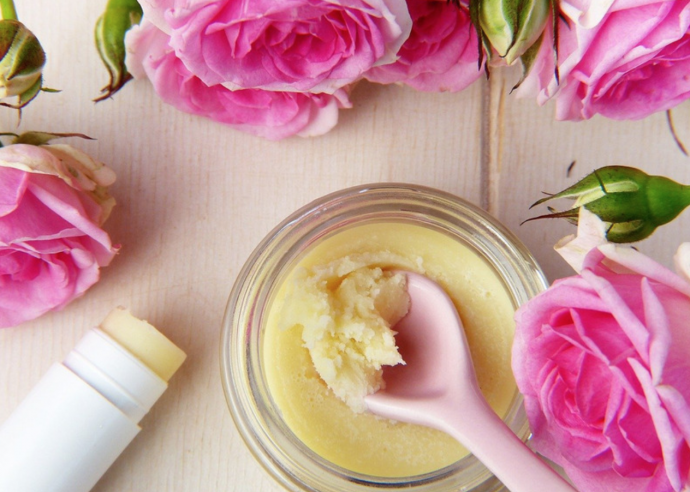 The first day of fall is finally here! Time for changing autumn leaves, cozy sweaters, pumpkin spice everything, and renewing your beauty routine. Today I'd like to share with you a simple homemade lip balm recipe for silky soft lips with natural ingredients and some scent ideas to try. This tried-and-true, super easy lip balm recipe moisturizes and protects with beeswax, natural cocoa butter and coconut oil. While it's very soothing to chapped lips, it's also light enough to be worn not only this fall, but all year-round. Enjoy!
Ingredients
2 tablespoons grated, packed cocoa butter or shea butter
2 tablespoons tightly packed grated beeswax
1 tablespoon plus one teaspoon coconut oil
1/4 teaspoon white stevia powder (optional, adds a hint of sweetness)
Up to 30 drops essential oil
1/4 teaspoon honey
1/8 teaspoon vitamin E
Instructions
Step 1
In a double boiler (or a stainless steel bowl set inside a pot of boiling water), melt cocoa butter/shea butter and beeswax.
Step 2
Add in the coconut oil and stir until thoroughly melted.
Step 3
Remove from heat and stir in essential oils, honey and vitamin E.
Step 4
Pour liquid into lip balm tubes or lip balm small containers and allow to cool for at least 20 minutes. (Tip: Transferring the liquid to a measuring cup with a spout makes pouring much easier.) It is ready to use!
Scent Ideas
Peppermint - Add thirty drops peppermint essential oil
Spearmint - Add thirty drops spearmint essential oil
Sweet Orange - Add thirty drops sweet orange essential oil
Lemon & Sweet Basil - Add 10 drops lemon essential oil and 20 drops basil essential oil
Ginger & Lemon - Add 20 drops ginger essential oil and ten drops lemon essential oil
Suggested expiration date - one year from the time it is produced.
Tips
1. Don't let the water boil.
Contrary to the name, double boiler, you do not want the water to get to a boiling state. Why? Because when water is boiling the evaporating rate is much higher. This can tend to leave you with no water and a burnt pan.
2. Let the melted ingredients sit and cool. Remember, if you simply want the scent and/or taste from the oils then you will not need to worry about temperatures and flash points. But if you're using pure therapeutic grade essential oils, you may as well stay within the constraints so you get all the benefits from the oils you have on hand! So no hurry, take your time and let them cool.
3. Get creative and substitute these different core ingredients and see what different results you get: you may use different oils like coconut oil, olive oil, sweet almond and different carrier oils, etc. Different butters like Cocoa, Shea, or mango butter, etc. Find your favorite! Stick to small batches and have some fun with it!