7 Perfect Bathroom Cleaning Tips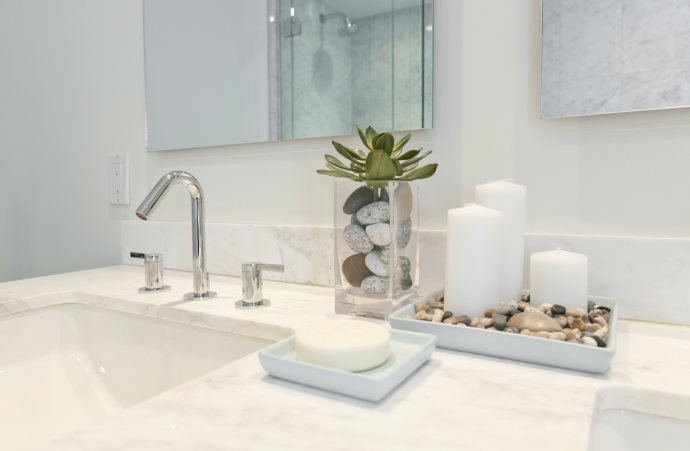 Your bathroom might be a big mess all week: stains on the mirror, toothpaste drops, dirt in the shower, stains and wetness on the floor.
Since we use our bathroom every day, it's best to clean and tidy up after use rather than allowing the mess to accumulate after weeks of use before you clean. Discover simple tips to declutter and clean the bathroom.
1. Morning Routine
Spray the shower with a cleanser every morning, wipe down dirty surfaces, clean the areas you want to clean and rinse with water.
2. Hang your robes on hooks and your towels on bars.
You must allow your towels to air dry sufficiently so that you can use them at least 2 to 3 more times. Make sure you hang your towels to dry properly.
If you like to wear a bathrobe, you should provide a hook to hang it in your bathroom. This will make your bathroom look like a well-furnished hotel room.
3. Get a laundry basket to store towels in your bathroom.
Your bathroom is not a place to store junk. So make sure you do not leave towels in the tub or on the bathroom floor. If you have used a towel for more than three days, put it in the hamper to wash.
4. Clear away any clutter on your countertop.
You may be too busy in the morning to clean up your countertop. Therefore, clear all the items you used in the morning while preparing for the day from the countertop and store them in the right places.
5. Clean the toilet seats during your nighttime routine
The time you wash your face and brush your teeth at night before bed is the best time to clean the toilet with a toilet cleaner and quickly clean the toilet seat with a cleaning cloth. Doing this routine every day will not only keep the toilet clean between major cleanings, but will also reduce the need for weekend cleaning.
6. Wipe down countertops quickly before getting ready for bed.
When you have finished your nightly beauty ritual, wipe down bathroom countertops quickly.
Keep cleaning supplies where you can easily reach them to make this process simple and effective.
7. Key areas to focus on when cleaning and tidying your bathroom
Clean the sink and tidy it up. Scrub the toilet, bathtub and shower. Remove stains and smudges from the mirror. Mop the floors, especially the corners of the bathroom floor.