7 Smart Uses of Petroleum Jelly at Home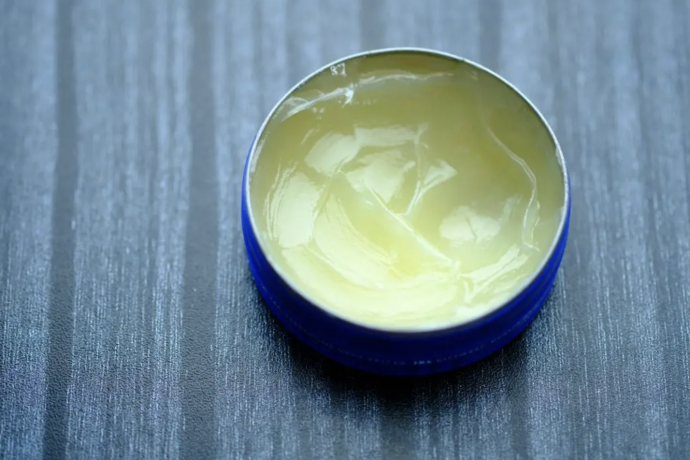 Keep a jar of petroleum jelly in every room of the house to help remove stains, protect valuables, stop squeaks, and much more.
1. Lengthen the life of perfume
You've picked out a great scent to wear on your night out, but it's got to last. Worry not; dab a bit of petroleum jelly on your pulse points, then spray on the perfume. Now you can go out knowing your perfume won't turn in early.
2. Smoother closing shower curtains
Stop the water from squirting out onto the bathroom floor by getting that shower curtain into place quickly. Lubricate the curtain rod with petroleum jelly and you'll whip that curtain across the shower in no time.
3. Remove wax from candlesticks
Long red tapers used for a candlelit dinner are a beautiful sight until you see the candle wax drippings left in the candleholders. Before a dinner party, apply petroleum jelly to the insides of your candleholders before you put the candles in. That way, the wax will pop out for easy cleaning.
4. Remove chewing gum from wood
If you discover chewing gum stuck under the dining room table or behind the headboard of your child's bed, don't freak out. Just squeeze some petroleum jelly on the offending wad, rub it in until the gum starts to disintegrate, and you can remove the gum.
5. Fit vacuum parts together smoothly
It's nice that your vacuum cleaner comes with so many accessories and extensions, but it's frustrating when the parts get stuck together and you have to yank them apart. Apply a bit of petroleum jelly to the rims of the tubes and the parts will easily slide together and apart.
6. Shine patent-leather shoes
You've got a great pair of patent-leather shoes and a dynamite bag to match. The luster will stay longer if you polish both of them with petroleum jelly.
7. Restore leather jackets
You don't need a fancy leather moisturizer to take care of your favorite leather jacket. Petroleum jelly does the job just as well. Apply, rub it in, wipe off the excess and you're ready to go.