7 Expert Laundry Tips That Will Save Your Clothes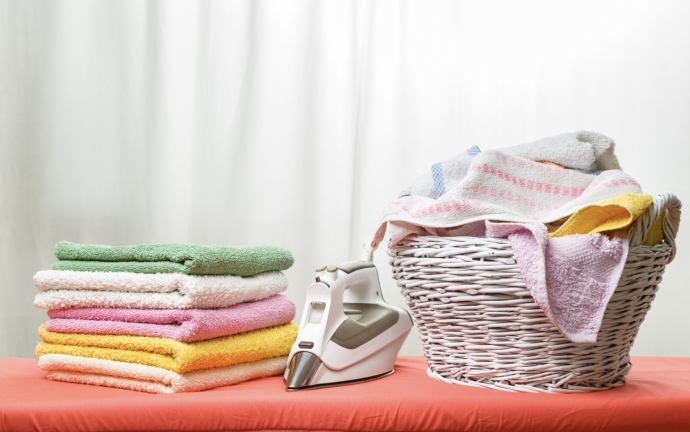 When it comes to laundry, there are few people with more experience and expertise than a professional dry cleaner. From stain removal to cleaning the most delicate fabrics, dry cleaning professionals know their stuff!
While I've some of my own tried and true laundry tips that I've shared here on my blog, I'm always on the lookout for new tips, especially ones that come from the pros themselves! I've scoured the internet for the best laundry tips from dry cleaners, and here are 7 you won't want to miss.
1. The magic number for formal wear
If you've ever wondered how often you should have your formal wear washed or dry cleaned, 3 is the magic number. If you clean suits, dresses and other formal wear every 3 times, they'll look and feel clean without overusing the material. Stains would be an obvious exception to this rule, but in general, you should be able to wear these particular garments at least 3 times before you need to worry about cleaning them.
2. Don't go overboard with the detergent
Not only do professionals prefer to use detergent sparingly, but many admit to using less detergent than the smallest amount listed on the measuring cup. Most modern, high-efficiency machines don't require very much detergent to properly clean clothes. If you overdo it, you can be left with residue that will attract even more dirt in the long run. And if you're dealing with stains, pre-treat them with a stain remover instead of adding even more detergent to the wash.
3. Close your zippers
Make sure your zippers are closed before you wash anything that's a zipper. Zippers are responsible for a surprising amount of destruction in laundry. By keeping them closed, you can easily make sure they don't rip or tear other items in the wash. The same goes for hook and loop fasteners: Prevent Velcro from getting caught in other items by closing them before washing. You may even want to wash items with Velcro separately for extra protection.
4. Dab, don't rub
When treating a stain, it's important to blot it by pushing down and pulling up, rather than scrubbing in a circular motion. Scrubbing at a stain allows the stain to penetrate further into the fabric instead of pulling it out. Instead, gently blot the stained area with a stain remover, working from the outside in to prevent the stain from spreading.
5. Think before you splash
Many of us get dressed and then go straight to other steps like doing our hair or applying perfume. But in doing so, we may not be doing our clothes any favors, as hair products and perfumes contain alcohol and other ingredients that can fade, discolor or even stain certain fabrics. One way to prevent damage to your clothes is to simply apply perfume, hair products and other sprays before you get dressed. Another way is to use a towel or cape to protect your clothes when you use sprays. Both will help prevent damage to your clothes!
6. Don't leave the bag on
When you pick up your clothes from the dry cleaners, they're usually wrapped in a plastic bag to protect them from the elements until you get home. Dry cleaners want you to know that these bags aren't meant for long-term storage! When you put your freshly cleaned clothes away, hang them uncovered in your closet or put them in cloth bags so they can breathe.
7. Wash your clothes inside out
The best way to avoid unnecessary wear and tear on your clothes in the wash is to turn them inside out before putting them in the washing machine. This way, the inside of your clothes will get the most wear from the friction of the washing drum and other garments, while the outside will be better protected. This way, embellishments like buttons and sequins are protected, printed graphics stay intact, and more.