7 Dishwasher Care Tips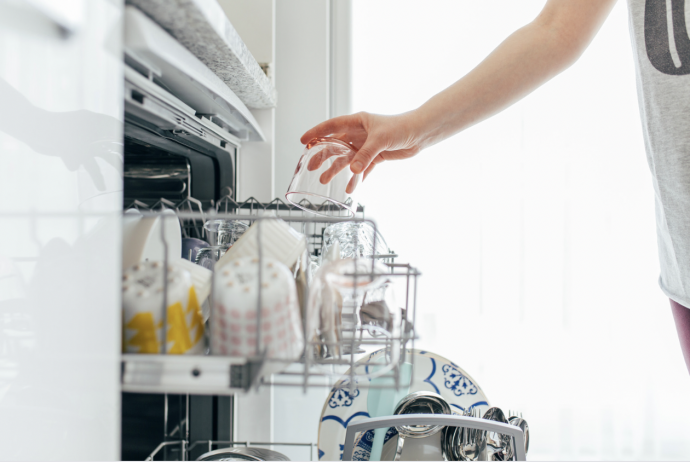 Most people do not think about cleaning their dishwasher. After all, the appliance is used every day to clean your dishes. It's easy to assume that your dishwasher is cleaned at the same time that you wash your dishes, but the reality is that over time, food particles and other debris can accumulate. This buildup can cause the dishwasher to perform poorly and the dishes to become dirty and unsightly.
Cleaning and maintaining your dishwasher regularly can keep it running smoothly and give you spotless dishes every time you wash them. Check out these 7 easy-to-follow tips that will keep your dishwasher looking good and working at its best.
1. Deodorizing
Arm & Hammer Baking Soda. If your dishwasher stinks, sprinkle a half cup of Arm & Hammer Baking Soda on the bottom of the dishwasher and let it sit overnight. Run the baking soda through the machine the next time you load it. This will help clean the inside of the machine as well as the dishes.
2. Dishwashing Soap
20 Mule Team Borax and Arm & Hammer Super Washing Soda. To make your own automatic dishwashing soap, mix 20 Mule Team Borax and Arm & Hammer Super Washing Soda in equal parts to make an old-fashioned detergent of borax and sodium carbonate. (Wear rubber gloves when working with washing soda to protect your hands from the caustic pH 11).
3. Excess Suds
Bounce. If you use the wrong detergent or too much detergent in your dishwasher and it overflows, open the door and insert a sheet of Bounce to remove the excess suds. The anti-static elements in Bounce will pop the bubbles.
4. Gasket
You can repair a cracked dishwasher gasket (the rubber lining on the inside of the door) by simply filling the crack with DAP Caulk and letting it dry.
5. Glassware
Heinz White Vinegar. To prevent a soap film on glasses, add one cup of Heinz White Vinegar to the bottom rack of your dishwasher, run it for five minutes, then run the full cycle. Running a cup of white vinegar through the entire rinse cycle once a month will also reduce soap scum on the inside.
6. Indicator
Post-it notes. You can easily tell if the dishes in the dishwasher are clean by sticking a Post-it note on the front of the dishwasher after you turn it on. When the dishwasher stops, the Post-it note indicates that the dishes inside are clean.
7. Lime Deposits
Clorox Bleach and Heinz White Vinegar. Reduce limescale buildup in the dishwasher by adding one cup of Clorox Bleach to the empty dishwasher and running the machine through the first cycle. Let the machine drain, then add two cups of Heinz White Vinegar and run the machine through the rinse cycle. Skip the dry cycle and run the dishwasher through a normal cycle with regular detergent instead.