8 Alternative Uses of Fabric Softener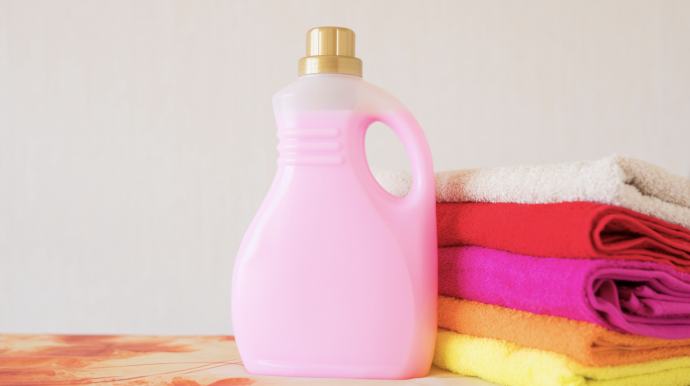 The smell of fabric softener has to be one of the most comforting smells — fresh and yet cozy at the same time. But you can use fabric softener in all areas of the house, not just in the laundry room. Here are some great hacks for keeping every room fresh and every surface clean with this simple laundry staple.
1. Stop dust clinging to your tv
Are you frustrated to see dust fly back onto your television screen, or other plastic surfaces, right after cleaning them? To eliminate the static cling that attracts dust, simply dampen your dust rag with fabric softener straight from the bottle and dust as usual.
2. Remove old wallpaper
Removing old wallpaper is a cinch with fabric softener. Stir 1 capful of liquid softener into 1 quart (1 l) water and sponge the solution onto the wallpaper. Let it soak in for 20 minutes, and scrape the paper from the wall. If the wallpaper has a water-resistant coating, score it with a wire-bristled brush before treating it with the fabric softener solution.
3. Clean now, not later
Clean glass tables, shower doors and other hard surfaces, and repel dust with liquid fabric softener. Mix 1 part softener into 4 parts water and store in a spray bottle, such as an empty dishwashing liquid bottle. Apply a little solution to a clean cloth, wipe the surface, and polish with a dry cloth.
4. Untangle and condition hair
Liquid fabric softener diluted in water and applied after shampooing can untangle and condition both fine, flyaway hair, and curly, coarse hair. Experiment with the amount of conditioner to match it to the texture of your hair, using a weaker solution for fine hair and a stronger solution for coarse, curly hair. Comb through your hair and rinse.
5. Remove hair-spray residue
Dried-on overspray from hair spray can be tough to remove from walls and vanities, but even a buildup of residue is no match for a solution of 1 part liquid fabric softener to 2 parts water. Stir to blend, pour into a spray bottle, spritz the surface, and polish it with a dry cloth.
6. Abolish carpet shock
To eliminate static shock when you walk across a carpet, spray the carpet with a fabric softener solution. Dilute 1 cup (250 ml) softener with 10 cups (2.5 l) water, fill a spray bottle and lightly spray the carpet. Don't saturate it and damage the carpet backing. Spray in the evening and let dry overnight before walking on it. The effect should last for several weeks.
7. Make your own fabric softener sheets
Fabric softener sheets are convenient to use, but they're no bargain when compared to the price of liquid softeners. You can make your own dryer sheets and save money. Just moisten a washcloth with 1 teaspoon (5 ml) liquid softener and toss it into the dryer with your next dryer load.
8. Remove hard-water stains
Hard-water stains on windows can be difficult to remove. To speed up the process, dab full-strength liquid fabric softener on the stains and let it soak for 10 minutes. Then wipe the softener and stain off the glass with a damp cloth and rinse thoroughly.