8 Smart Uses Of Electrical Tape Around the House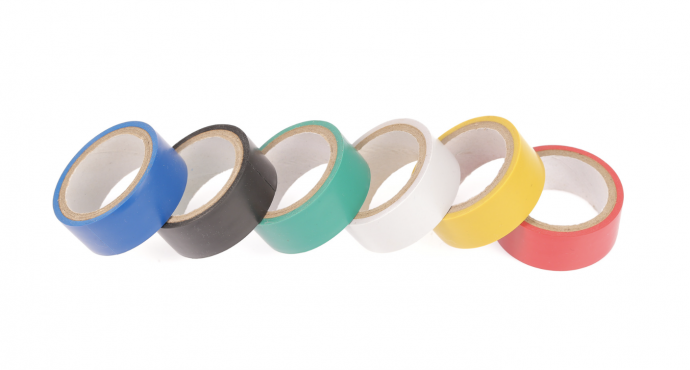 You've probably had to buy a roll of electrical tape for one reason or another; whether it's for a quick repair or you needed something a little stronger than masking tape, there's a good chance you have a roll around the house. Provided you're not an electrician, it's also likely that the roll will start to crack and the tape will lose its effectiveness by the time you need to pull it out of the junk drawer again. So how can you put that tape to good use before the rubber starts to degrade? Discover 8 extraordinary ways to use an electrical tape at home.
1. Stop ants in their tracks
Is an army of ants marching towards the cookie jar on your countertop or some sweet prize in your pantry? Create a 'moat' around the object by surrounding it with vinyl plastic electrical tape placed sticky side up.
2. Make a lint-lifter
To lift lint and pet hair off clothing and upholstery, you don't need a special lint remover. Just wrap your hand with electrical tape, sticky side out.
3. Cover castors
Prevent your furniture from leaving marks on your wood or vinyl floor by wrapping the furniture's castor wheels with electrical tape.
4. Clean a comb
To remove the gunk that builds up between the teeth of your comb, press a strip of electrical tape along the comb's length and lift it off. Then dip the comb in a solution of alcohol and water, or ammonia and water, to sanitize it. Let dry.
5. Hang glue and caulk tubes
Got an ungainly heap of glue and caulk tubes on your workbench? Cut a strip of electrical or duct tape several inches long and fold it over the bottom of each tube, leaving a flap at the end. Punch a hole in the flap with a paper hole punch and hang the tube on a nail or hook. You'll free up bench space, and you'll be able to find the right tube fast.
6. Make bicycle streamers
Add cool streamers to children's bicycle handlebars. Make them using electrical tape in various colors. Cut the tape into strips about 1/2 inch (1 cm) wide by 10 inches (25 cm) long. Fold each strip in half, sticky sides together. Once you have about half a dozen for each side, stick them into the end of the handlebar and secure them with electrical tape. Be sure your child can still have a good grip on the handlebars.
7. Reinforce book binding
Electrical tape is perfect for repairing broken book binding. Using colored tape of a suitable color (matching or contrasting the cover so that it looks appealing), run the tape down the length of the spine and cut shorter pieces to run perpendicular to that if you need extra reinforcement.
8. Cover a book
Use electrical tape in any color to create a durable book cover for a textbook or a paperback that you carry to the beach. Make a pattern for the cover on a sheet of newspaper. Fit the pattern to your book, and cover the pattern, one row at a time, with electrical tape, overlapping the rows. The resulting removable cover will be waterproof and sturdy.