9 Clever Ways To Use Your Old Wine Corks
Do you have a growing collection of wine corks in your home? If you polished off a few wine bottles in celebration of Valentine's Day, pause before you throw those corks in the trash. You can actually use them for a variety of household purposes. You'll be surprised at how quickly you can reinvent the purpose of a wine cork. Who knew your wine bottles always came with a handy knick-knack?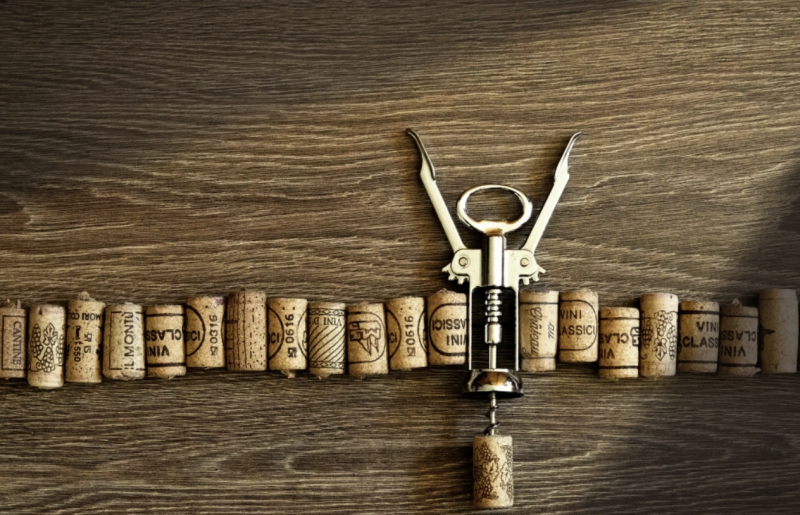 Create a fishing bobber
It's an idea that's as old as mark twain's tom sawyer, but worth remembering. A cork makes a great substitute fishing bobber. Drive a staple into the top of the cork, then pull the staple out just a bit so you can slide your fishing line through it.
Make an impromptu pincushion
If you're looking for a place to store pins while sewing, save wine-bottle corks—they make great pincushions!
Prevent pottery scratches
Your beautiful pottery can make ugly scratches on furniture. To save scratching tabletops, cut thin slices of cork and glue them to the bottom of your ceramic objects.
Replace soda bottle caps
If you've lost the cap to your soda bottle and need a replacement, just put a cork in it. Most wine corks will fit soda bottles perfectly.
Make a pour spout
If you don't have one of those fancy metal pour spouts to control the flow from your oil or vinegar bottle, you can make your own by cutting out a wedge of the cork along its length. Use a craft knife to do the job. Stick the cork in the bottle and pour away. When you're through, cover the hole with a tab of masking tape.
Fasten earrings
Earring backs always get lost, and you can't always find a perfect-sized stand-in when you need it. Use a snippet of cork as a temporary substitute. Slice a small piece about the size of the backing and push it on. An eraser cut from the end of a pencil will also work.
Block sun glare
In the good old days of football and baseball, players would burn cork and rub it under their eyes to reduce glare from the sun and stadium lights. These days, they use commercial products to do the same, but you can still use cork to get the job done.
Prevent scraping-chair noises
The sound of a chair scraping across your beautiful floor can make your skin crawl. Solve the problem by cutting cork into thin slices and attaching them to the bottom of the chair legs with a spot of wood glue.
Easily cap knitting needles.
When you need to take your knitting supplies on the go, the last thing you want is for your handiwork to fall off the needles. What can help: sticking the sharp ends into a wine cork. The stopper will help block the yarn from falling off the needles' slick ends, so you won't have to double back on your stitch later.