Extraordinary Uses Of Clothespins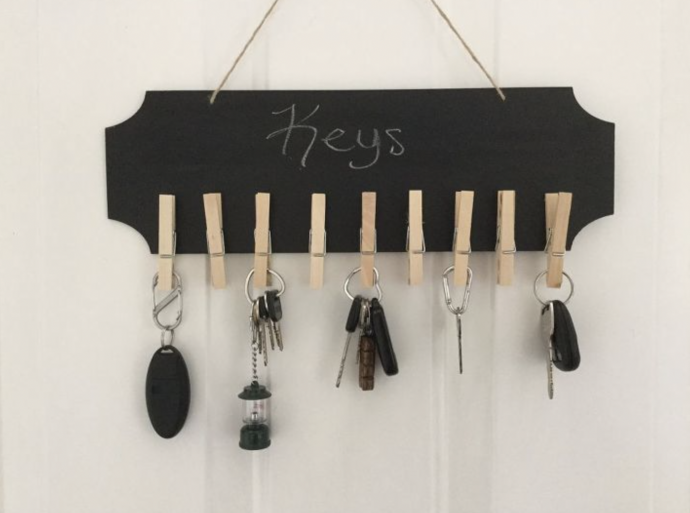 Do you have a plethora of wooden clothespins hanging around your home and unaware how useful they can be beside when hanging clothes on a clothesline?
You'd be amazed at how handy clothespins can be. Since they're one of the most underappreciated everyday household items, I'm going to share with you how you can utilize them in your day to day life to make things run a little smoother.
Discover how you can put your wooden clothespins to good use around your home or office!
KEEP SNACKS FRESH • Tired of biting into stale potato chips from a previously opened bag? Use clothespins to reseal bags of chips and other snacks, cereal, crackers, and seeds. The foods will stay fresh longer and you won't have as many spills in the pantry, either. Use a clothespin for added freshness insurance when you store food in a freezer bag, too.
MAKE A CLOTHESPIN CLIPBOARD • Organize your workshop, kitchen, or bathroom with a homemade rack made with straight clothespins. Space several pins evenly apart on a piece of wood and screw them on with screws coming through from the back of the board (pre-drill the holes so you don't split the peg). Now your rack is ready to hang.
ORGANIZE YOUR WARDROBE • Sometimes it's not just finding children's shoes that's the problem; it's finding both shoes. Try using clothespins to hold together pairs of shoes, boots, or sneakers, and put an end to those unscheduled hunting expeditions in the closet. It's a good idea for gloves, too.
PREVENT VACUUM CORD SNAP-BACK • If your vacuum cleaner suddenly stops, you've probably accidentally pulled out the plug, which means the cord will automatically retract and snap back into the machine. To avoid similar annoyance in the future, simply clip a clothespin to the cord at the length you want.
MAKE AN INSTANT BIB • Make bibs for your child by using a clip-on clothespin to hold a dish towel around the child's neck. Use bigger towels to make lobster bibs for adults. It's much faster than tying on a bib.
MAKE CLOTHESPIN PUPPETS • Traditional straight clothespins are ideal for making little puppets. Using the knob as a head, have kids paste on bits of wool for hair and scraps of cloth or colored paper for clothes to give each one its own personality.
HOLD A LEAF BAG OPEN • If you've ever tried to fill a large leaf bag all on your own, only to see half the leaves fall to the ground because the bag won't stay open, we have a solution for you. Next time use a couple of clip-on clothespins as helpers. After you shake open the bag and spread it wide, use the clothespins to clip one side of the bag to a chain-link fence or other convenient site. The bag will stay open for easy filling.