7 Tips for Cooking with Cookbooks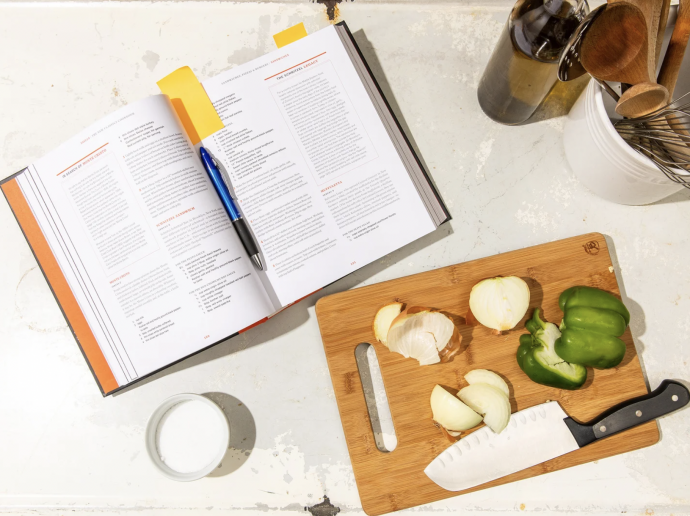 Cookbooks exist to help us cook. They work for us, not the other way around. Cookbooks want more than anything to help you cook, and to cook damn amazing food — and sometimes better food than you could cook if left to your own panic-fueled decision-making. Cookbooks want to lure you away from that moment when you're staring blankly into the fridge, fathoming the meaninglessness of dinner, and wondering why on earth you didn't just plan something, like you swore you would. Discover 7 awesome tips & tricks to make the most of cooking with cookbooks.
1. Cookbook page protectors
To protect cookbooks from splatter you can shield open pages with heavy-duty clear protector sheets, which are available at any office store. Two taped-together sheets fit neatly over an open cookbook. This cover can be wiped clean with a damp cloth and reused.
2. Keeping a cookbook flat
To keep the open pages of a cookbook or magazine flat, readable, and clean while cooking, put a clear glass (pyrex) baking dish over them.
3. Preserving your cookbooks
When the pages of a cookbook get soiled or moist from wayward recipe ingredients, use this trick to keep them from sticking together.
1. Blot the pages dry with paper towels.
2. Slip a piece of waxed paper between the pages before closing.
4. Picture-perfect recipes
To keep recipes splatter-free, try printing them out on water-resistant photo paper. The paper is sturdy enough to prop up during cooking and can easily be wiped clean with a damp towel. Its heavy weight also makes it more durable than a regular recipe card, and the 4 by 6-inch size fits perfectly in a recipe box.
5. Protecting cherished recipes
To protect recipes from the splotches and splatters of usual kitchen duty, many cooks use plastic page protectors, available at office supply stores. If you find yourself without page protectors, try one of these solutions.
A. Zipper-lock bags serve the purpose admirably. Lay the zipper-lock bag flat on the counter, slide the sheet of paper right into it, and zip shut. 1-gallon bags work nicely for 8 ½ by 11-inch sheets, while sandwich-size bags are perfect for recipes on index cards.
B. Clean, dry glass pot lids also do the job. Place the lid over the sheet of paper, or even over an open cookbook or magazine. The weight of the lid will keep it open.
6. Read like a test cook
We have no qualms about minor splatters on our cookbook pages. The real problem occurs when messy hands scramble to hold the pages open. In the test kitchen, we work from photocopies tacked to a standing clipboard (found in most office supply stores). Without all the advertising that bulks up most magazines, cook's illustrated is actually light enough to be held on one of these clipboards. Just clip a plastic sheet protector (available at stores that sell school supplies) over the page for added protection.
7. Ingenious recipe holders
A. Slip one or more recipe cards into a 5 by 7-inch freestanding lucite picture frame, which slants backward slightly for easier reading and also keeps the cards free from splatters during cooking.
B. Thread the recipe card on fork tines and then set the fork in a water glass.
C. To keep a whole magazine spread in plain view (and out of harm's way) while cooking, place the open magazine in an empty napkin holder.