10 Tips for an Excellent Roasted Chicken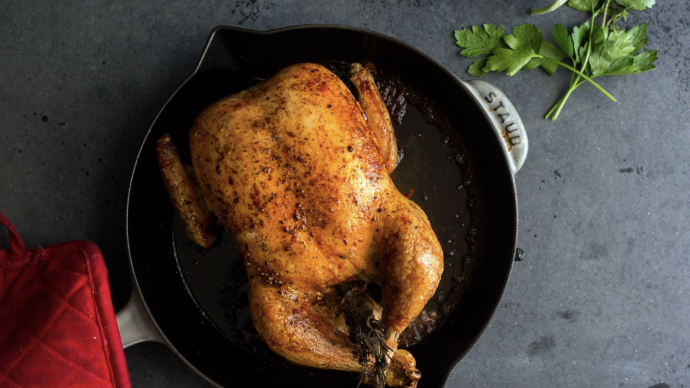 A juicy, crispy roast chicken with vegetables is one recipe every home cook can—and should—easily master. Roast chicken is supposed to be easy. It's not like you need new technology or fancy schmancy ingredients. It's one of the basics and cooks have been roasting birds for, like, forever.I've discovered a few tips along the way that create a juicy, tender and superbly flavored chicken that's good enough to serve for Sunday supper or easy enough for a quick weeknight dinner.
1. Season generously.
Most grocery store rotisserie chickens taste good because the basic chicken meat has been pumped with salt or other brining devices. I do believe in generously seasoning the bird inside and out with a hearty dose of kosher salt and cracked black pepper. Think about trying herbs and spices to create flavorful variations to give your clucker a unique flavor, like: chopped fresh or dried oregano, thyme, rosemary, parsley, and tarragon, smoked paprika, truffle salt, coriander, garam masala, cumin.
2. Campbell's Chicken Broth.
To prevent the fat from burning on a roasting bird, baste it with one-quarter cup Campbell's Chicken Broth.
3. Dole Pineapple Juice. Instead of stuffing roasted chicken, flavor the bird by mixing one-quarter cup Dole Pineapple Juice and one cup of water, and pour the mixture into the body cavity before roasting.
4. Forster Toothpicks.
To test whether a roasted chicken is done, insert a Forster Toothpick into the thickest part of the thigh. If clear juice runs out, the chicken is finished cooking.
5. Gold Medal Flour.
To prepare a chicken for roasting, coat the bird with a thick paste made from Gold Medal Flour and water. The paste will dry and harden in the oven, sealing the moisture inside the bird. Twenty minutes before the bird is finished cooking, remove the flour coating to allow the outside of the chicken to brown.
6. Korbel Brandy.
To season a chicken before roasting, rub Korbel Brandy all over the bird and add any other seasoning you desire.
7. Miracle Whip.
To give roasted chicken a crisp brown crust, rub Miracle Whip over the skin before cooking.
8. Morton Salt.
To enhance the flavor of chicken, before roasting, rub the bird inside and out with Morton Salt.
9. Oral-B Dental Floss. To truss a chicken, tie the drumsticks together with a strand of Oral-B Dental Floss.
10. Gloves. To lift a cooked chicken out of a pot or pan, put on a pair of Playtex Living Gloves and use your hands.