8 Tips for Perfect Picnics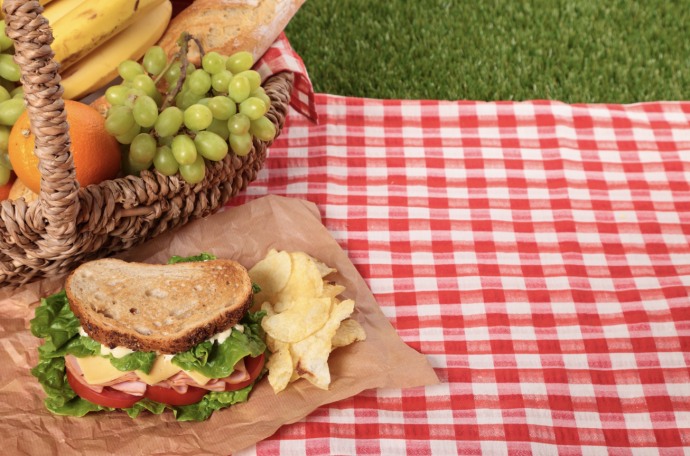 The sun is shining and everyone wants to head outdoors. Alfresco eating becomes an obsession when the weather warms up and what better way to indulge than with a picnic. You need a blanket, drinks, and most of all food which is safe to eat.
Use these top ten tips to make your picnic not only safe but a real success. Once sorted, all you need is for the sun to shine.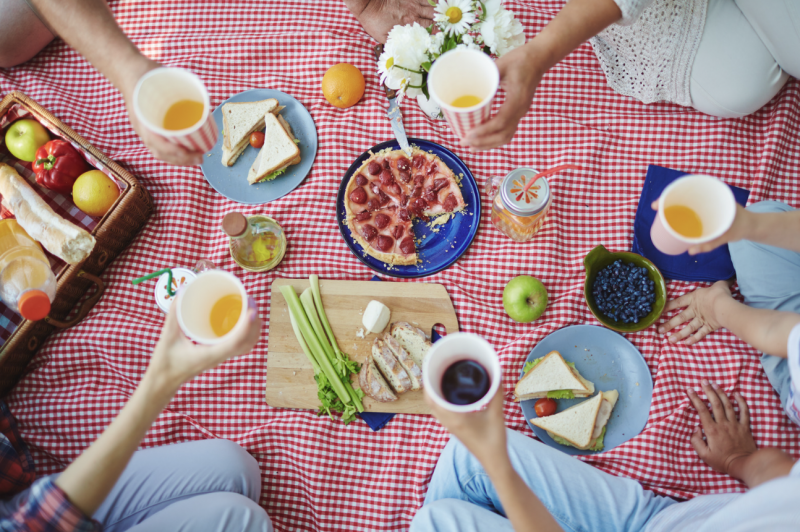 1. Summer salad chill-down
Serving cold dishes at a hot summer picnic can be a recipe for mediocre food. Here are two tips for keeping your salads and cold dishes cool and fresh on the buffet table.
A. Dutch oven cooler
Fill an enameled cast-iron dutch oven with ice water and let it stand until the pot is thoroughly chilled, about 5 minutes. Dump out the water and dry the pot and then transfer chilled food, such as potato or macaroni salad, into the pot for serving. The pot will retain the cold temperature much longer than would a glass or plastic serving bowl.
B. Lettuce on ice
Fill one or two large zipper-lock bags with ice cubes and a few tablespoons of salt. (the salt helps to keep the ice cold longer.) Place the sealed bags in the bottom of a large serving bowl and cover them with lettuce leaves. Spoon your salad onto the lettuce leaves. It will stay cold for at least 1 hour.
2. Potluck perfection
All too often, hot potluck dishes cool off quickly. Keep your soups and stews (and even mashed potatoes) warm on the buffet table for more than an hour by serving them in an attractive, insulated ice bucket.
3. Dish id
Bringing food to a potluck or other get-together can be a bit of a risk—many a good dish has been lost in the shuffle over the years. Give your platters and trays a fighting chance at making it home by writing your name and phone number or address on the bottom in dry-erase marker. It makes for easy identification post-meal and easily washes off later.
4. Tagging with toothpicks
When grilling for a crowd, you need a way to tell well-done burgers and steaks from medium-rare at a glance. Try assigning each level of doneness a number of toothpicks (e.g., one for medium-rare, two for medium, three for well-done) and pegging the proper marker into the meat as it comes off the fire.
5. BBQ trick for bakers
When serving condiments at backyard barbecues, use a jumbo muffin tin to contain extras like ketchup, mustard, relish, and chopped onion. The toppings stay together and you have only one container to clean at the end of the party. (a popover pan also works.)
6. A simple trick for sweeter iced tea
No one enjoys undissolved granules of sugar in an iced tea. Solve the problem by keeping a jar of sugar syrup, known as simple syrup, in the refrigerator. To make the syrup, combine 1 cup water and 1 cup granulated sugar in a small saucepan. Set the pan over medium heat and whisk frequently, until the sugar dissolves completely. Simmer for 4 minutes, remove from the heat, and let cool. For more flavor, simmer one of the following ingredients with the water and sugar (strain the flavoring ingredients out of the syrup once it cools):
½ scraped fresh vanilla bean and seeds for vanilla simple syrup
3 tablespoons packed mint leaves for mint simple syrup
3 ounces fresh berries (raspberries, blackberries, or blueberries) for berry simple syrup
2-inch piece of ginger cut into four coins for ginger simple syrup
2 teaspoons grated citrus zest (lemon, lime, or orange) for citrus simple syrup
7. Concentrated flavor for summer drinks
Create inventive summer drinks by stirring scoops of frozen juice concentrate into pitchers of unsweetened iced tea to taste. Lemonade, limeade, and orange juice are all great choices.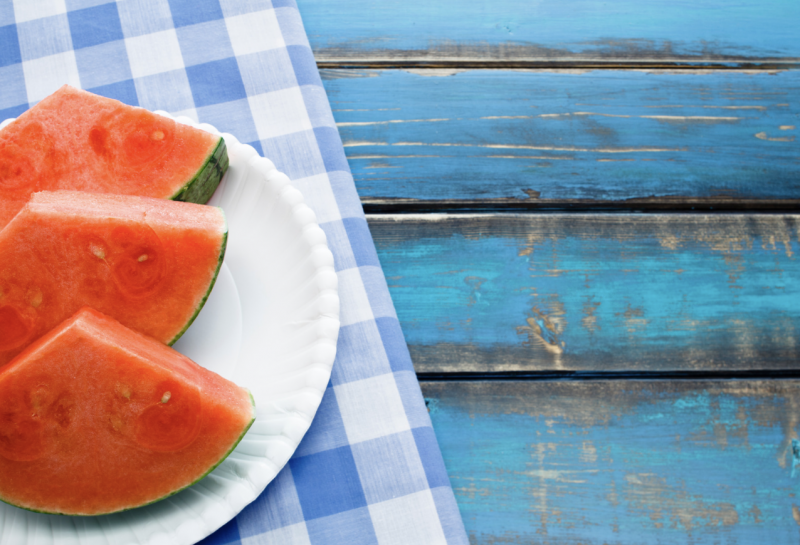 8. Watermelon ice cubes
Everyone loves lemonade on hot days. To make it extra fun, freeze diced watermelon to put in the glasses instead of ice cubes. The watermelon's water content helps it freeze easily, and the lemonade-spiked watermelon makes a delicious treat after the drink is gone.