7 Cooking Hacks & Simple Solutions
Discover 7 different ideas and tips to make your cooking time a little bit more pleasant!
When it comes to cooking, daily hacks and simple solutions are amazing because they make our lives easier, save time, and minimize effort.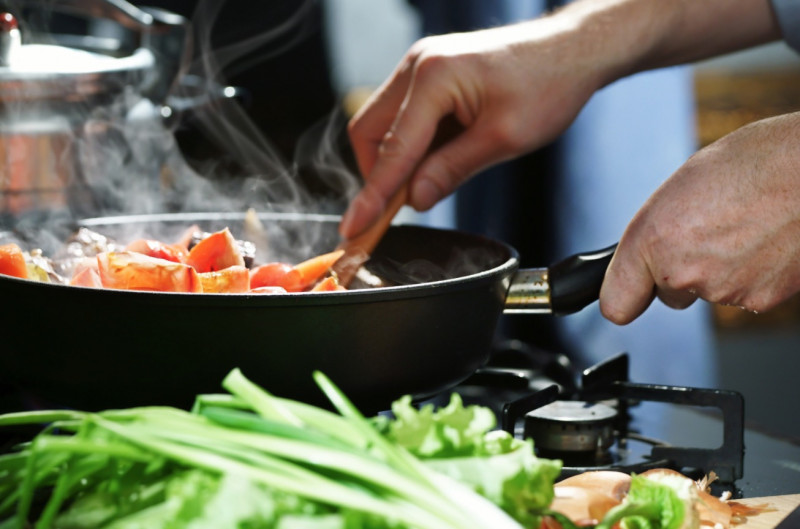 1. DIY dried herbs in a flash
Stuck with a plethora of herbs growing in your garden? Try this quick, easy way to dry and store them.
1. After washing and drying the herbs, place them on a clean paper towel and microwave them on high power for 30 to 40 seconds.
2. Crumble the dried herbs and store in an airtight container (use within three months for best flavor).
2. Storing ginger
Fresh ginger can be stored in the freezer or in a pot of dry sand to extend its shelf life, or you can try this method.
1. Peel and cut the ginger into 1-inch pieces and place in a canning jar or other glass jar.
2. Fill the jar with sherry, cover with an airtight lid, and store in the refrigerator for up to six months. This technique not only preserves the ginger but also gives you ginger-flavored sherry to use in Asian recipes.
3. Recycling leftover pickle juice
Instead of tossing out a jar of pickle juice after finishing the last pickle, use the tangy liquid to make a new condiment. Add thinly sliced onions to the juice and let them marinate in the refrigerator for a few days. The drained onions can be used as a topping for hot dogs or hamburgers or in salads. This method also works well with the spicy packing juice from vinegar peppers.
4. Dressing up leftover condiments
Next time you end up with the dregs of a delicious jam, jelly, or mustard in your fridge, make the most of every last morsel by mixing up some salad dressing. Add olive oil, vinegar, salt, pepper, garlic, and herbs or spices when the jar is nearly empty, screw on the lid, and shake away. In seconds you have a perfect dressing and nothing is wasted!
5. Croutons in a crunch
Homemade croutons are a great way to recycle stale bread. Here's a quick method for making them that doesn't even require an oven.
1. Brush four slices of bread with oil or melted butter on both sides and sprinkle with 1 teaspoon kosher salt and 1 teaspoon chopped fresh herbs.
2. Cut the bread into 1-inch pieces and place it in a single layer on a large microwave-safe plate.
3. Microwave on high power for 4 to 5 minutes until the cubes begin to brown. Remove the cubes from the microwave; they will crisp as they cool.
6. Homemade pita chips
The next time you have stale pita bread sitting around, turn it into a delicious snack rather than throwing it away.
1. Cut two 8-inch pita breads into wedges and arrange them on a baking sheet. Brush the wedges with 2 tablespoons olive oil and then sprinkle with ½ teaspoon table salt and ¼ teaspoon dried herbs.
2. Place the baking sheet on the lower-middle rack of a 350-degree oven and bake until crisp, about 8 minutes. Flip the chips and continue to bake until fully toasted, about 8 minutes longer.
7. Two neat tricks for straining bacon grease
A. Tea infuser
Straining cooled bacon grease before saving it for future use helps avoid spoilage, but the potentially messy task often requires an extra set of hands. Here's a clever way to work alone: set a tea infuser over a mason jar. Designed to rest in a mug, the infuser also sits securely on the jar's rim so that you can focus on careful pouring.
B. Foil lining
Handling hot bacon drippings is a messy proposition. Try this great tip for neatly storing the drippings for later use.
1. Line a small heatproof bowl with two small sheets of heavy-duty aluminum foil and carefully pour the hot bacon fat into the foil-lined bowl.
2. After the fat cools and solidifies, lift out the foil and fold it over the fat. The fat can then be refrigerated or frozen.