10 Places to Use a Pegboard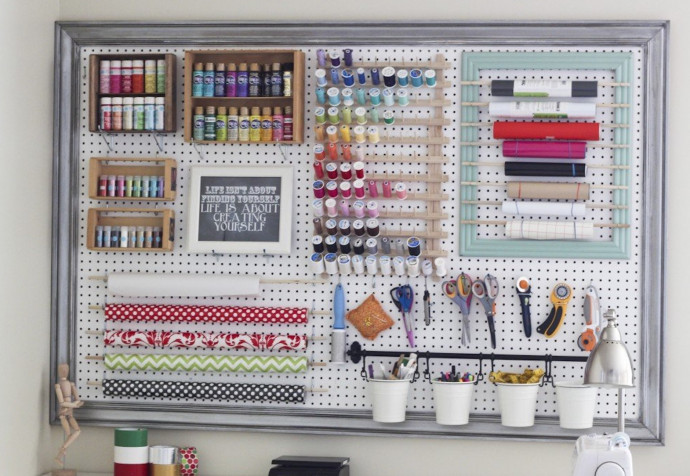 Pegboards have been used for organizing for a while now, but they were traditionally relegated to garages. However, these task masters can be used to organize almost any space and decorated to fit in just about everywhere. Check out all the many ways to use a pegboard.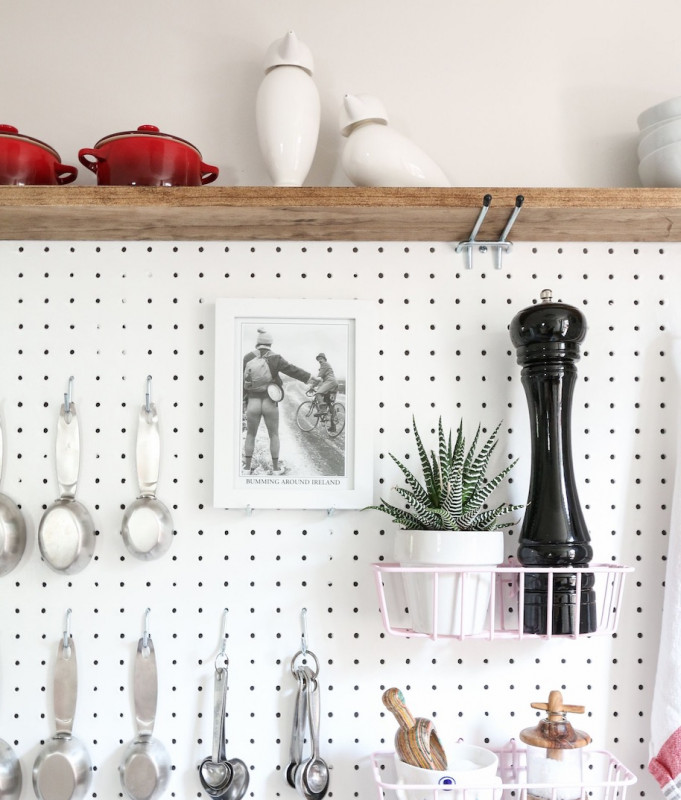 1. A pegboard in your office can hold desk supplies, calendars, memo boards, wall pockets, and more. Put it on the wall above your desk and enjoy a clean surface with your supplies within reach.
2. From a pegboard, use hooks to hang various-sized buckets in a kid's room to store small toys and stuffed animals. Hooks are also great for hanging hoodies. Paint the pegboard a bold color or with the child's initial to make it a focal point of the room's decor.
3. Utility areas such as laundry rooms and mudrooms are perfect places for pegboards. Use them to hang cleaning supplies such as dusters, rags, lint rollers, and brooms. A pegboard makes even your basic supplies look great.
4. Follow the lead of culinary legend Julia Child, who famously not only used pegboards to hold cooking equipment in her kitchen but also outlined each piece on the board so everyone knew exactly what to put where.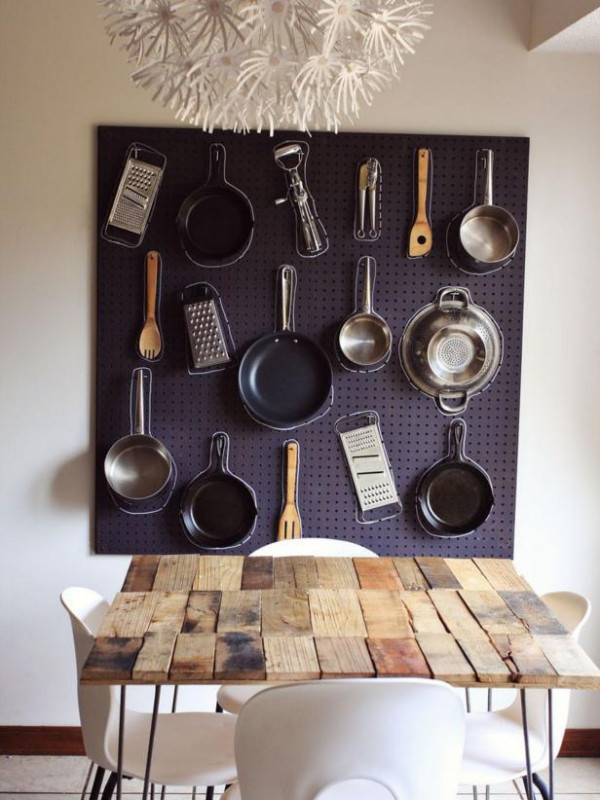 5. If you do use a pegboard in the kitchen for utensils and pots and pans, don't forget the lids. Pegboard hooks are the perfect way to hang those bulky and difficult-to-store items.
6. Craft rooms are pegboard nirvana. Small buckets hanging from a pegboard can hold scissors and coloring supplies, larger hanging trays are perfect for corralling glitter and small jars, and hooks are great for hanging ribbon and tape. You can even mount small crates using extended hooks (with their opening facing out) and fill them with craft paint.
7. Photo galleries can take hours to plan and perfectly install, so for a fun take try them on a pegboard. You can move the hooks around and quickly rearrange art and photos, making installation and alterations a breeze.
8. Technology accessories such as remotes, headphones, and gaming equipment tend to overtake living spaces and playrooms. Install a pegboard and hang them up instead. Hanging buckets work well for remotes and you can also install larger boxes to hold DVD and Blu-ray discs or video game cases. When organizing becomes intentional, even electronics can be stored beautifully.
9. Bathrooms are often short on space. Hang a small pegboard and use it to hold hair dryers, curling irons, and brushes. If there's room, you can also add hooks for jewelry to create a one-stop shop full of supplies to get you ready in the morning.
10. And, yes, you can still use pegboards in your garage. They really are an effective way to organize power tools and hardware, and the hooks come in many varieties for this very purpose.