10 Organization Hacks: Arts & Crafts Supplies
Neatly store your crafts supplies with these creative and simple solutions. Our budget-friendly ideas repurpose common household items, like glassware, baskets, and jars, as storage for paints, brushes, markers, and more. These clever craft storage ideas will turn your pile of supplies into an organized arts and crafts area.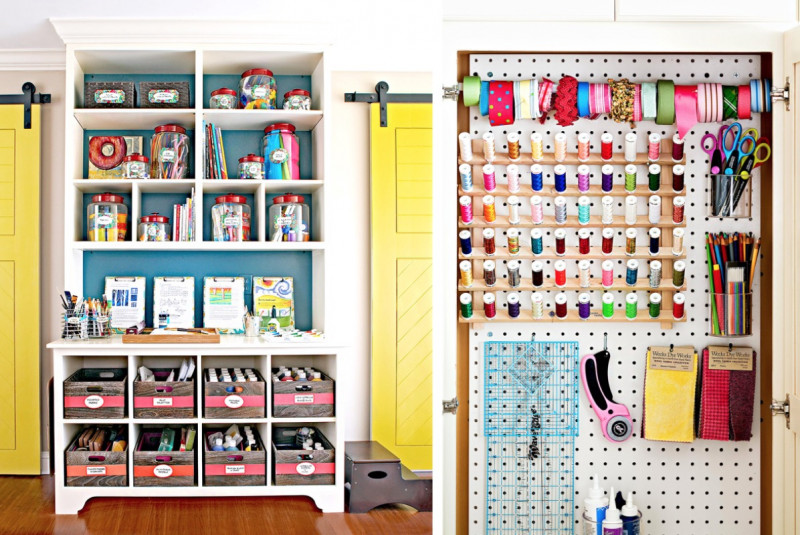 1. Turn a shoebox into a ribbon dispenser by cutting small holes evenly along each long side, placing spools inside vertically, and threading the ends of ribbon through the holes so just the ends peek out.
2. Create a craft station in the inside of a closet with a pegboard, desk, and open shelves for supplies. Hang shoe pockets on the inside of the closet door to create more usable space. The best part is you can close the closet door when finished so the room looks clean and uncluttered.
3. If you don't have a craft room, use an under-bed storage bin on wheels to contain supplies for easy access.
4. A shower caddy with a handle works beautifully as a mobile craft station. Fill the caddy with supplies for knitting, crafting, DIY projects, or scrapbooking. Carry it to where you need it, and store it in a cabinet or bookshelf when not in use.
5. Add corkboard or cork sheets (available in rolls at the craft store) to the inside of an armoire or cabinet doors for a quick place to store memos, fabric scraps, paint swatches, and more.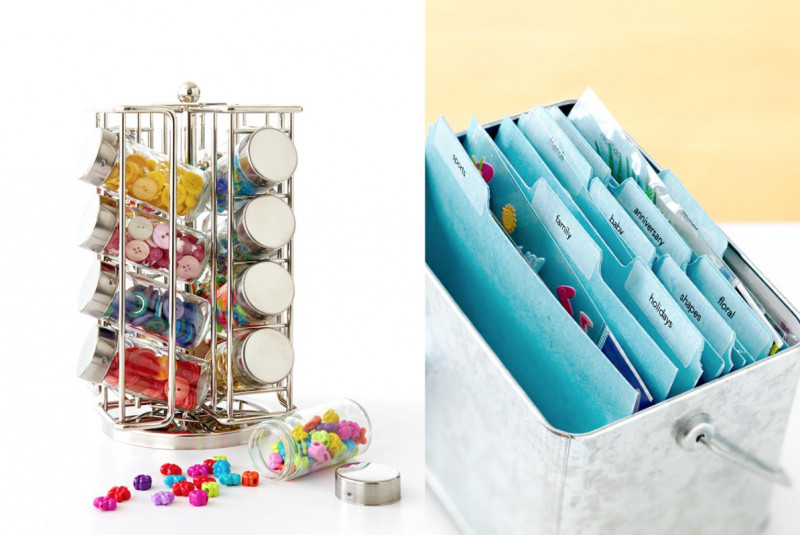 6. Spool holders are the perfect size for holding rolls of washi tape.
7. Repurpose empty spice jars by filling with glitter or buttons and store them in a spice rack.
8. Utilize the large flat space on top of bookcases and armoires by adding finials vertically to the front edge of the top and store rolls of wrapping paper behind them.
9. If you have a nook or small space between two walls (such as a closet), place a small tension rod inside and thread it with spools of curling ribbon to make a ribbon dispenser.
10. Hang wall-mounted closet or curtain rods in your sewing area and drape with fabric for a pretty wall display. You can also hang small pieces over the top of hanging file folders, one folder per piece of fabric, for a drawer full of organized fabric that can be stored out of sight.