10 Ways to Use Hanging Shoe Pocket Organizers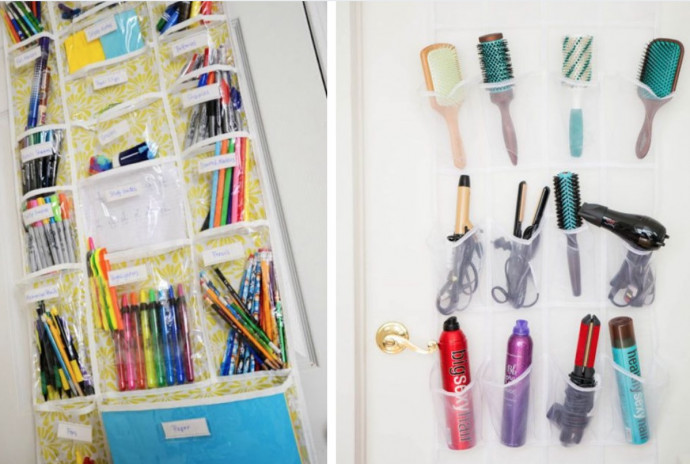 Over-the-door shoe pockets aren't just for footwear! They come in several materials, including clear plastic for when you want to see what's inside and cloth for when you don't. With all those gorgeous pockets, and the ability to fit them in such a slim and underutilized area, shoe pockets are an organizing superstar. Discover the best ways to manage their star power.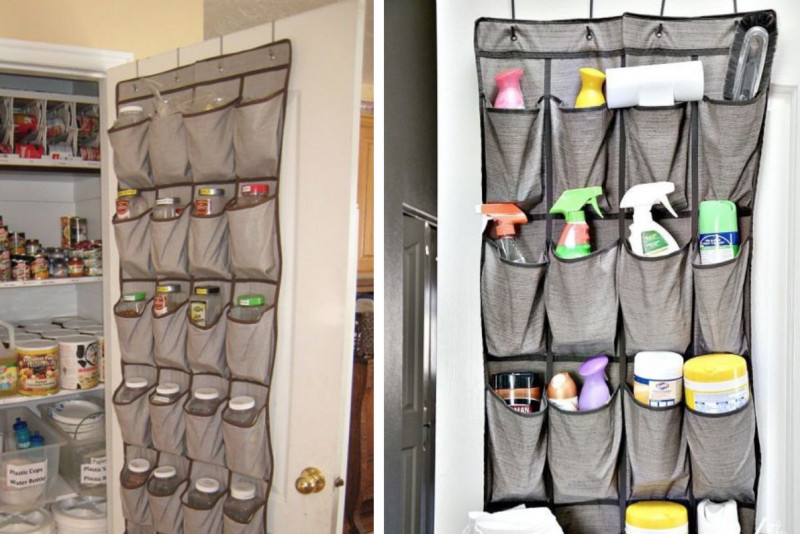 1. Place them on the inside of your utility closet and fill with cleaning supplies such as cleaning sprays, dusters, rags, and latex gloves.
2. They make excellent art supply organizers—markers, colored pencils, brushes, and more, all lined up and ready to use.
3. Using clear pockets, create a jewelry organizer on the back of a closet or door. Large pockets are best suited for bulky jewelry such as statement necklaces and bracelets.
4. Attach clear shoe pockets to the wall of your garage by hanging with hooks or screws in the grommets, and fill with small hardware and miscellaneous items grouped together by category such as screws, cable ties, and nails sorted by type. This makes finding correctly sized hardware a breeze.
5. Roll scarves and tuck them into pockets. This is especially great for thin scarves that would otherwise easily snag.
6. Stash winter items such as hats, gloves, and thick socks into the pockets that hang inside the door of your coat closet. When summer arrives, switch them out for sunscreen, sun hats, and sunglasses.
7. For any parents reading this, small toys and stuffed animals will find a happy home in shoe pockets when used in kids' rooms.
8. Hair ties, headbands, bows, and bobby pins fit neatly inside over-the-door pockets. They will be easily visible if you use clear pockets.
9. As long as the spices are bagged or bottled, you can use clear shoe pockets on the back of a pantry door. This makes them easy to find because you can see what you need instantly.
10. Crafters will find they can use the pockets for washi tape, skeins of yarn, or a variety of other essential crafting items.