10 Ways to Use Mason Jars at Home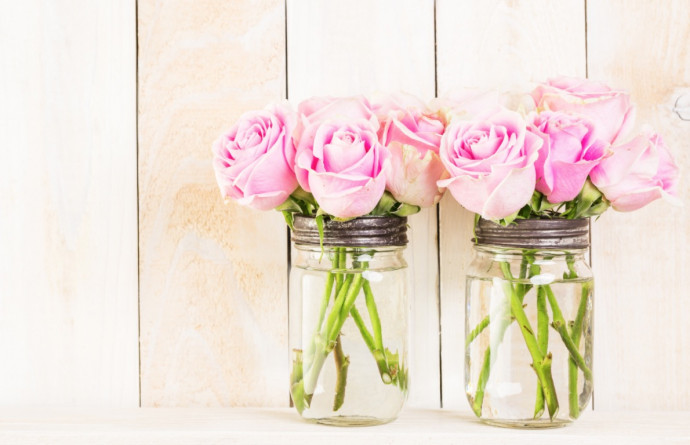 These days there are so many great organizers out there that you can buy. They are so nice to have but they can be really expensive! So what do you do if you want to get organized but you don't have a lot of money to spend? Use Mason Jars! Mason jars are a household classic and chances are good that you already have several on hand. If not, they can be readily found at supermarkets, craft stores, and online. While breakable, they are made of thicker glass, which means they are fairly sturdy. This makes them ideal for organizing everything from food to office supplies and so much more.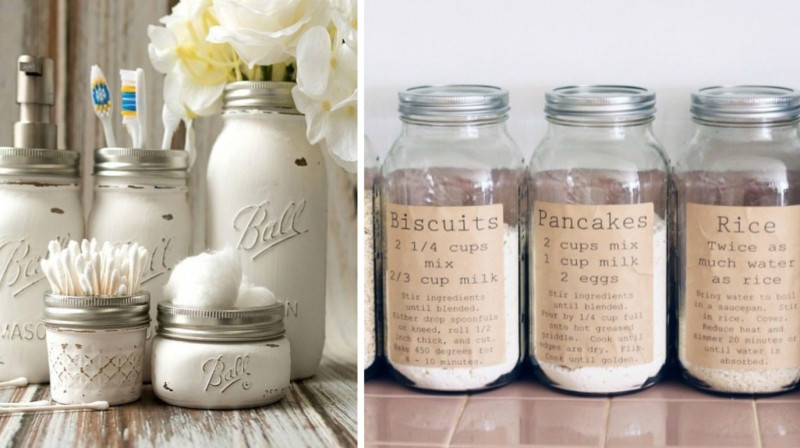 1. Using a hammer and nail, punch holes in the metal disk lid of a mason jar. Fill the jar with toothpicks, salt, pepper, or anything else that could benefit from a shake-top lid, and you have a handy shake-top dispenser.
2. Paint the outside of jars with chalk paint and lightly sand over the raised letters to give a distressed finish for storage jars. This lets you know exactly what's in the jar at a glance and easily change the label when you change the contents.
3. Place several larger mason jars horizontally in a wine bottle rack to create pretty storage for art supplies such as markers and colored pencils.
4. Turn the mason jar into a handy sewing kit by placing an old pincushion on top of the metal disk, covering it with a circle of fabric, and placing the metal ring over it. Place spools of thread and needles inside the jar, and your sewing kit is ready.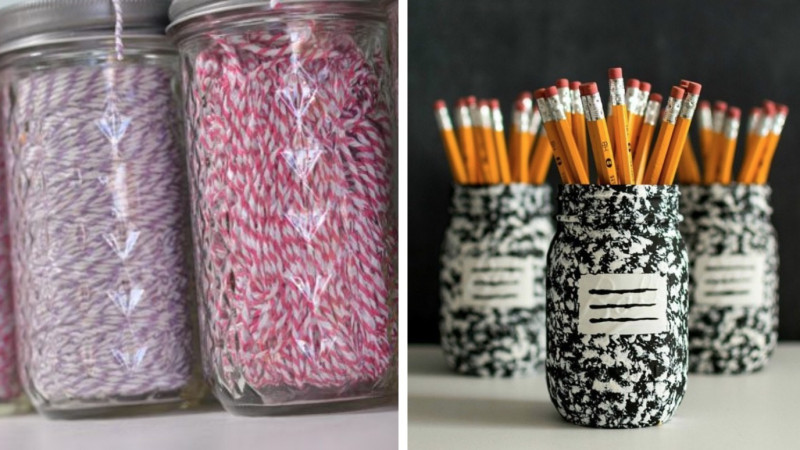 5. Use large mason jars for pantry storage. Not only will this make your beans and rice look pretty, you can instantly see what's inside as well as how much you have left.
6. Put wire mesh, such as chicken wire, over the top of a jar and cap it with the metal ring to make a toothbrush holder.
7. Place three mason jars in a caddy, fill with spoons, forks, and knives, and use as a utensil carrier for outdoor dining.
8. Beautify your baking supplies by storing them in mason jars. Put cupcake liners, sprinkles, chocolate chips, baking soda, and other baking staples inside and add labels to make identifying them a breeze.
9. Add a soap dispenser top (available online or in craft stores) to a mason jar and fill with your favorite hand soap. You'll save money buying soap in bulk, and you'll have an attractive farmhouse-inspired dispenser to beautify your sink area.
10. Make a wall-mounted mason jar organizer that's useful in just about any room. Use a hammer and nail to punch a hole in the backs of plumbing hose mounts and screw them onto a board, then mount the entire piece to the wall. Attach mason jars to the hose mounts and fill with items you wish to organize.