Crochet Basics: Block Stitch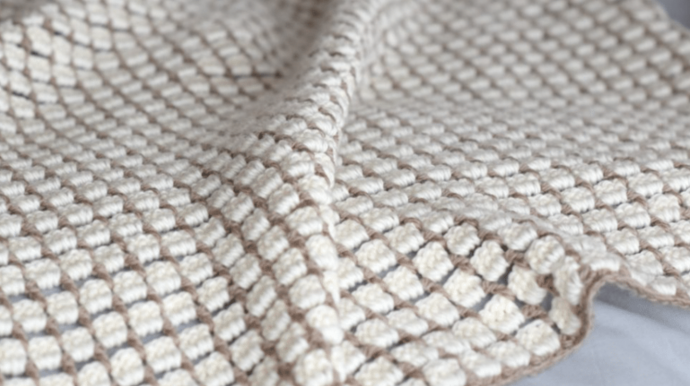 Crochet is an art form, a passion, a therapy, whatever you want to call it, to me it is the most fun you can have with yarn. So, let's continue to create yarn magic, one stitch at a time! Today's stitch is the Block Stitch. The Block Stitch is such a nice, not to mention beautiful, crochet stitch and it's so easy to learn. This stitch is a great crochet stitch for blankets, coasters, and pretty much anything! You can use the Block Stitch with one color, but I suggest using multiple colors to really bring out its beauty.
The block stitch is rather self-explanatory right in the name! Combining some basic stitches creates the boxes and when crocheted in at least two colors, the blocks really stand out, making the overall look that much more interesting! For even more interest–add more color! The more color you have, the more the blocks will stand out. The finished project looks very modern with its geometric squares–try using modern colors as well to make a fashionable blanket.
The crochet block stitch can be worked flat or in the round. While it is similar to the beloved granny square stitch, it has much cleaner lines. The finished result ends up looking very neat, which just adds to the modern look. The block stitch still has some nice spacing between the blocks, like the granny square, but it is more dense and hides loose ends making color changes easy.
This crochet block stitch is one of the best stitches to learn. It is simple enough for a beginner yet creates a finished product that looks expertly crafted. It just doesn't get much better than that! While the crochet block stitch is ideal for blankets, don't be afraid to mix it up. You can work up a scarf or cowl in various colors. Or perhaps some baby booties in a soft blue and white. You could even turn it into bright, colorful pillows and poufs! Let's dive in!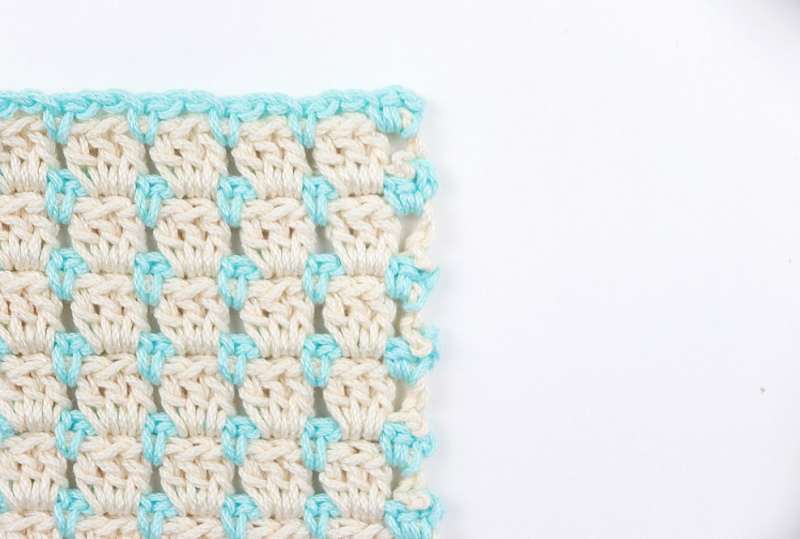 Instructions
First, make a chain in a multiple of 3+1
Row 1: Here, I've chained 19. Sc in 2nd ch from hook and in next ch stitch, *ch2, sk 2 ch sts, 1 sc in the next st*; repeat from * to * across row, sc in last ch; change color in final stitch
Row 2: Ch 3 (counts as dc stitch), 3 dc in each ch2sp across the row. (Don't make any stitches into the sc stitches except final sc stitch)
Make 1dc in final sc of row; change color on last stitch and turn.
Row 3: Ch 1, sc in the 1st stitch, 1 sc in the space (oops! I missed that one sc in the sp for the photo – you should see two sc stitches there in the start of the row), *Ch 2, sk 3 dc, 1 sc in the ch2sp*; repeat from * to *, 1 sc in the final stitch; change color at final stitch.
Now you will simply repeat rows 2 & 3 until desired length!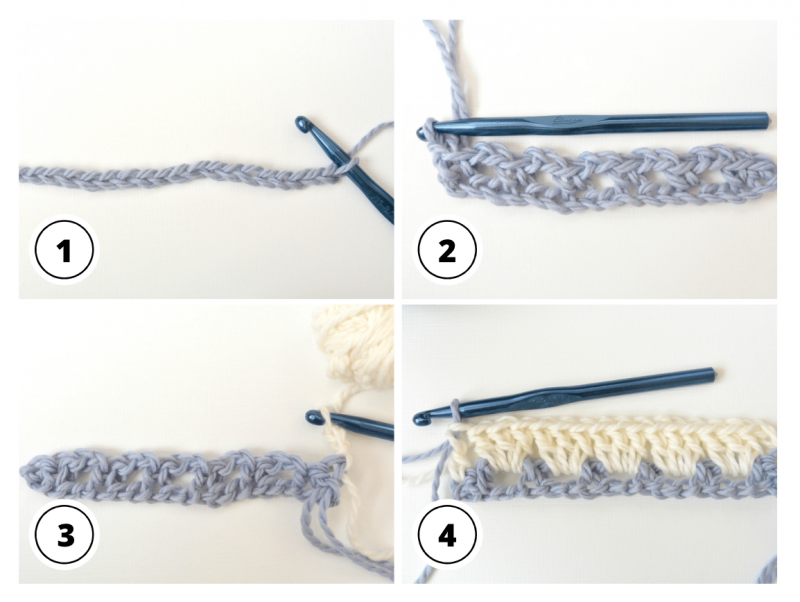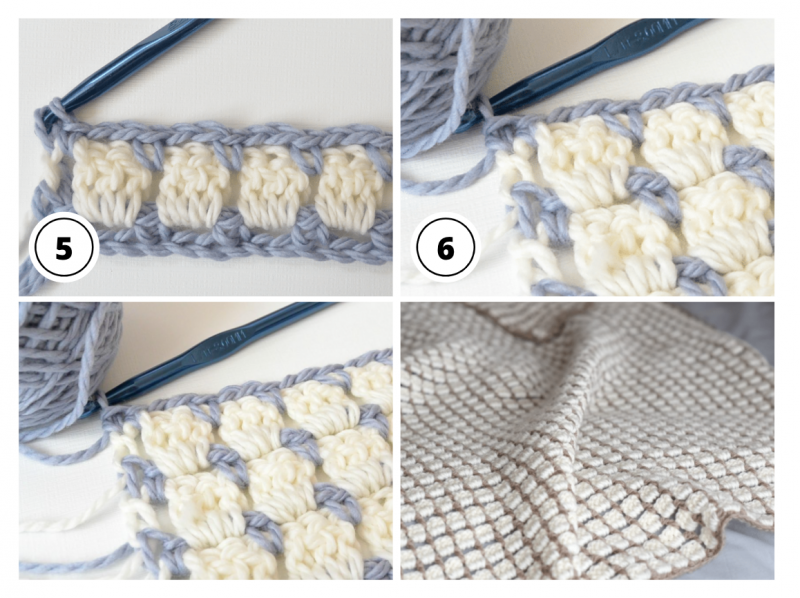 Block Stitch Tips:
The easiest way to work this is by carrying the colors up the side of your work. When you work your border around the edges, you won't even see it either. I've noticed that there is a lot of stretch with this stitch so if you're making a washcloth you may want to go down a hook size to keep it as tight as possible. This block stitch also looks really neat and modern when you use just one color, so no worries if you don't have two colors on hand. With that said, you can be as creative as you want and use several colors!
If you're going to be changing your yarn color after every row, you're going to end up with a lot of ends to weave in. It's inevitable so just prepare yourself.
Depending on the yarn you're using, the sides might look more tight scrunched up when you finish a Row 3 row (this happened with the cotton yarn sometimes), but if you stretch it out a little bit it will stay straight.
What can you imagine making with this gorgeous crochet stitch?
I hope that you enjoy it!