Crochet Basics: Iris Stitch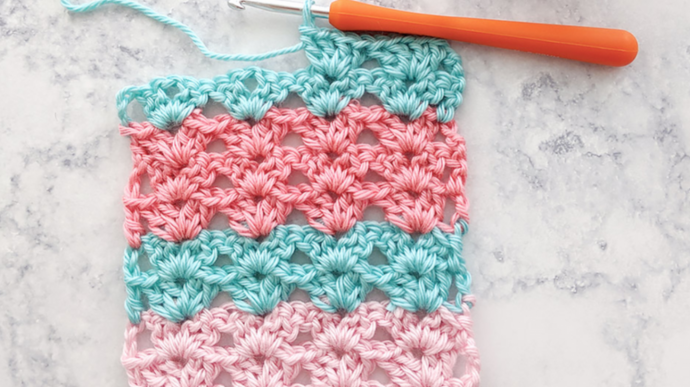 Crochet is an art form, a passion, a therapy, whatever you want to call it, to me it is the most fun you can have with yarn. So, let's continue to create yarn magic, one stitch at a time! Today's stitch is Iris stitch. The Iris Stitch creates a light and airy fabric with a beautiful drape – perfect for Spring! Learn to crochet this stitch along with me in the simple tutorial below! Let's get started!
This pretty crochet stitch is a great one for watching TV and crocheting. There is only a one row repeat and beyond the foundation row, all your stitches are placed in spaces and not in a stitch. I love crochet stitches like this. They are so relaxing and easy to memorize.
This elegant crochet stitch would be great for a variety of different projects: blankets, scarves, shawls, and sweaters, it looks great paired with basic stitches as an accent and pretty much any other project you can dream up.
Materials
I used Caron Simply Soft in the color Strawberry, which is a #4 worsted weight yarn
5.0 mm crochet hook
Scissors
Please feel free to use any yarn weight and hook combo you want!
Abbreviations
ch – chain
dc – double crochet
sk – skip
sp – space
st – stitch
Notes
Ch 3 counts as 1 dc
Instructions
The Iris Stitch is worked in multiples of 4 and then add 3 for your foundation chain. The below pattern makes a sample swatch and not a complete design.
Ch 23
Row 1: In 5th ch from hook (2 dc, ch 1, 2 dc), *sk 3 ch, (2 dc, ch 1, 2 dc) in next chain; repeat from * until 2 chains remain, sk a ch, dc in last ch; turn.
Row 2: ch 3, *(2 dc, ch 1 , 2 dc) in the next ch 1 sp; repeat from * to the end of the row, make a dc into the top of the turning ch from the previous row
Repeat Row 2 until you reach your desired length. Enjoy!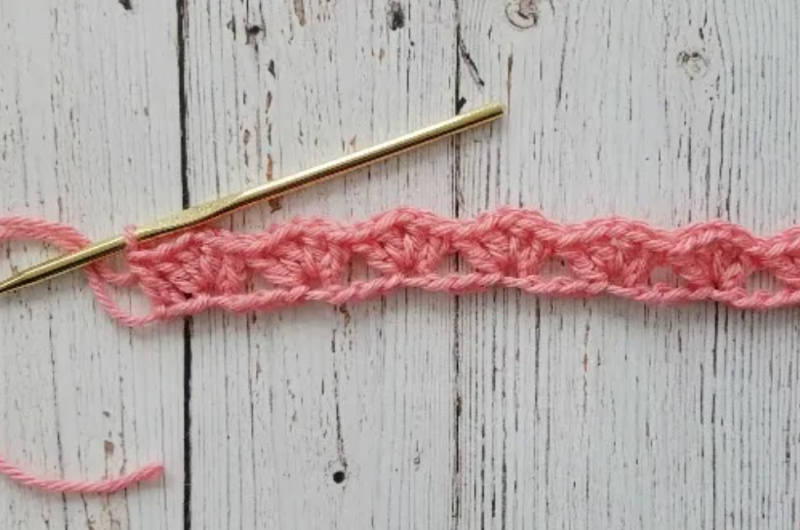 That is all there is too it! Easy right? Are you going to try this stitch?