Tunisian Crochet: Common Questions & Answers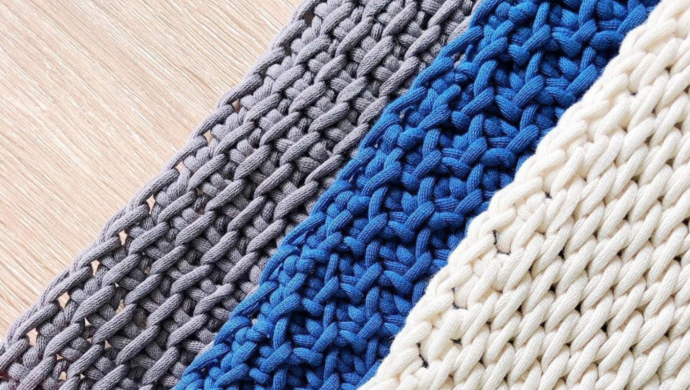 Hello, my dear crocheters! I keep answering some of the most common questions you have and to anticipate some questions you didn't know you had. Today I invite you to learn more about Tunisian crochet. I hope that this information will lead you down the road to gaining the confidence that makes for good crocheting. My goal in creating this section was to help as many beginners as possible because I know how frustrating it is when your crochet project just isn't going right. So feel free to leave your questions below! Be sure to make them as detailed as possible, and I will try to help you as best as I can.
Q1. What is Tunisian crochet?
This crochet technique is worked with a long-handled tool called an afghan hook, which looks like a cross between a knitting needle and a crochet hook. Some Tunisian hooks have a long cable on one end to allow wider widths than would be possible with a straight hook. There are also interchangeable hook/cable sets that allow you to use an assortment of cable lengths and hook sizes. Tunisian crochet combines elements of both crochet and knitting. Individual Tunisian simple stitches are square, making them an ideal base for cross-stitch embellishment.
Q2. Can I work other stitch patterns in Tunisian crochet?
Absolutely! You can make all kinds of fabrics, including Tunisian double stitch (like double crochet), rib, basket weave, bobbles, lace, clusters, and a variety of other stitches. You can increase, decrease, and otherwise shape pieces. You can do beautiful color work or lace work. You can combine Tunisian with regular crochet and with knitting as well.
Q3. My Tunisian fabric is curling forward. How do I prevent that?
There are several tricks you can try:
Use a larger hook than you might expect, perhaps 2 to 5 sizes larger than you would ordinarily use for that size yarn.
Keep your tension relaxed.
Work the foundation chain loosely, and work the foundation forward pass into the back bump of the chain.
Use a variety of stitch patterns. Worked alone, Tunisian Simple Stitch and Tunisian Knit Stitch tend to curl forward, but you can combine them with Tunisian Reverse Stitch, Tunisian Purl Stitch, or other stitch patterns to mitigate the curl.
Block the fabric, according to the fiber.
Add a crocheted edging wide enough to tame the curl.
Work in different directions, with some sections headed up and down, and others headed sideways, as in a Log Cabin–style afghan.
Q4. How do I decrease in Tunisian crochet?
When working a forward pass, insert the hook under the next two (or more) vertical bars and pull up one loop. You may also simply skip one stitch when working a forward pass, although this may leave an unsightly hole.
Q5. How do I increase in Tunisian crochet?
Pick up an extra loop at any point by inserting the hook from front to back under the horizontal strand that goes between two vertical bars. A yarnover on the forward pass adds a stitch, but it also creates a hole, which may or may not be desirable.
Q6. How can I tidy my edges?
There are several things you can do to create nice smooth selvedges. If the edge that starts the forward pass (the near edge) is loose compared to the edge that starts the return pass (the far edge), make sure that you are allowing the last loop of each forward pass to reach the full diameter of the hook shank, rather than snugging down into the throat, and loosen up on the first chain of the return pass. To tame a loose near edge, give an extra tug to tighten the first stitch you pick up on the forward pass, when there are still just two loops on the hook.
In Tunisian Simple Stitch, the near edge has a nice column of chains marching up the side, while the far edge doesn't sport that nice chained look. To create a chained selvedge on the far edge, insert the hook under both the last vertical bar of the forward pass and under the semivertical strand that lies next to it.
Q7. What projects are best suited to Tunisian crochet?
A: Most people associate Tunisian crochet with afghans. Accessories and garments can be made with afghan stitch, as well. The length of the hook limits the width of the fabric, however, so wide pieces must be worked on a hook with an extended cable, or worked in narrower pieces, then seamed.