How to Create Tunisian Crochet Stitches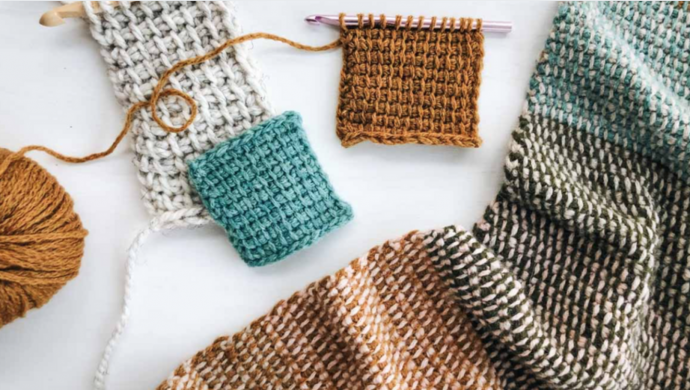 Tunisian crochet is a unique subset of crochet that combines some crochet techniques coupled with techniques from knitting. The main difference is that you use a longer hook and work with more loops on the hook at one time. This allows you to create different types of stitches than those found in traditional crochet. There are a few basic Tunisian crochet stitches that a beginner should learn to gain mastery in the technique. This guide introduces you to those basic stitches, which include Tunisian Simple Stitch and Tunisian Knit Stitch.
Today I'm going to go over everything you need to know to get started with Tunisian crochet, including how to do a basic Tunisian crochet stitch, the simple stitch.
What are the basics of Tunisian crochet?
Tunisian crochet is made with a combination of forward passes and return passes, also known as forward and return (or reverse) rows. Each combination of a forward pass and return pass creates one Tunisian crochet row. The forward pass is worked from right to left (left to right for Lefties) and loads up the hook with stitches; the return pass is worked from left to right (right to left for Lefties) and binds off the stitches. Unlike many crochet stitches, there is a clear right and wrong side to the fabric; it is worked with the right side facing you at all times. When choosing a hook size, it is best to go up several sizes from the size you would normally use for a particular yarn, in order to keep the fabric supple. Tunisian Simple Stitch (TSS) is the most common pattern.
Fabric characteristics & Tools needed.
Tunisian crochet produces a fabric that is pretty dense and a lot thicker than traditional crochet and much thicker than knitting. It is also less stretchy than both of these. Tunisian crochet fabric is also prone to curling. This is because of the bias created by always working on the right side of your fabric. You can reduce this by using a hook 2 sizes bigger than your yarn recommends, by keeping your tension loose and even, and by blocking your finished project. Tunisian crochet hooks are longer with some sort of stopper at the end. They can either be rigid or attached to a flexible cable. The rigid hooks are good for small projects like scarves. The length of your Tunisian hook or hook/cord combo depends on the width of your project.
Ok, now let's learn the stitch instructions!
Grab a Tunisian hook (or a straight crochet hook) and your favorite yarn. Chain any number to start. I have 15 chains. Remember each row has 2 steps. The forward pass and the return pass.
Insert your hook in the second chain from the hook and pull up a loop. 2 loops on hook. Insert your hook in next chain and pull up a loop. Repeat across. Remember to keep your tension loose.
Now you should have a row of loops on your hook like this.
Let's start the return pass. Ch 1.
Yarn over, pull through next 2 loops. Repeat across working off 2 loops at a time until one loop remains.
Row 1
Now we'll begin the second row forward pass.
Skip the first vertical bar. Insert your hook from right to left under the next vertical bar, pull up a loop.
Repeat across until you have picked up all the loops.
The return pass is done just as the first return pass we made. Ch 1. Yo, pull through next 2 loops. Repeat across working 2 loops off at a time until one loop remains.
Repeat row 1 until piece is the size you want it.
Binding Off. Now we can bind off. This creates a nice finished edge on your piece. We are basically going to be doing a series of slip stitches across your work. The bind off row only has a forward pass.
Insert your hook under 2nd vertical bar. Yarn over, pull through the vertical bar and loop on your hook. *insert your hook under next vertical bar, yarn over, pull through the vertical bar and loop on your hook. Repeat from * across. Finish off.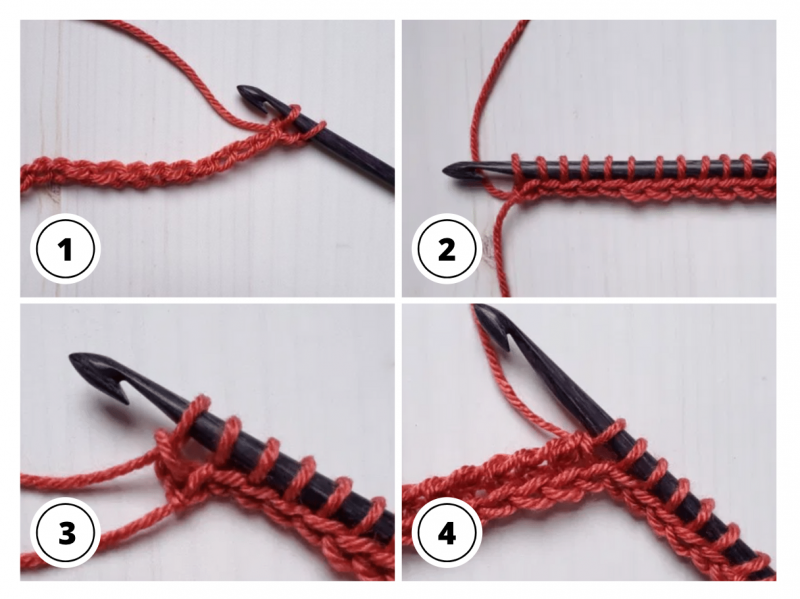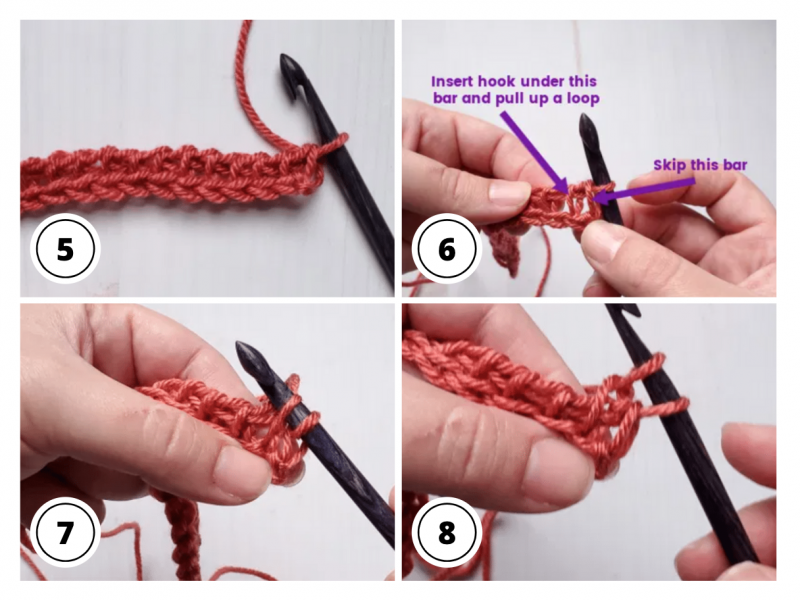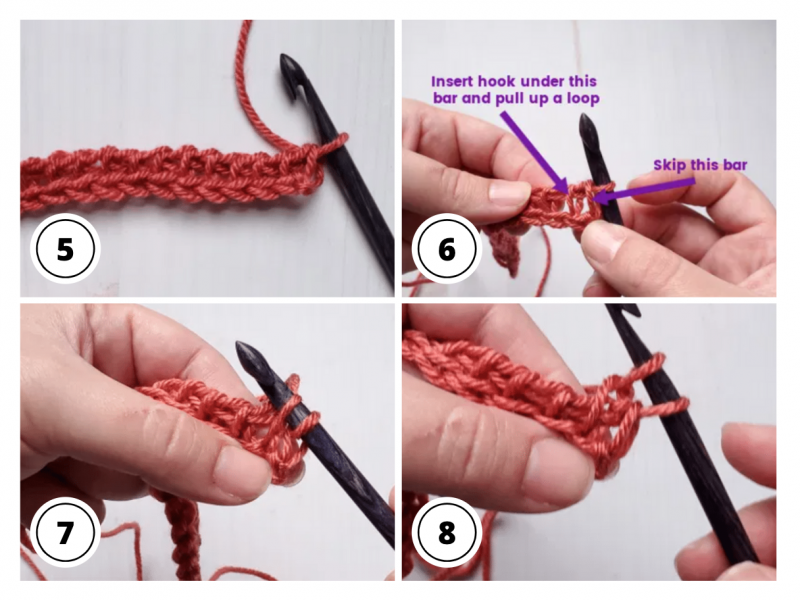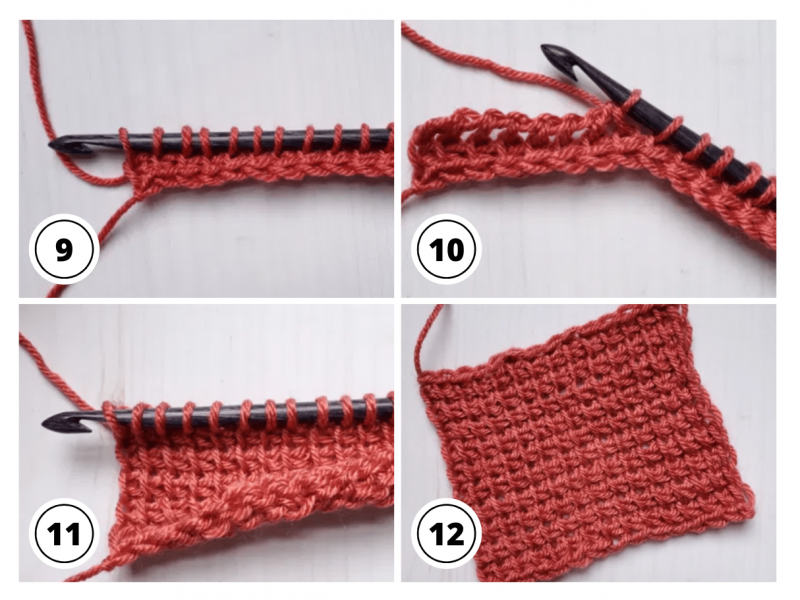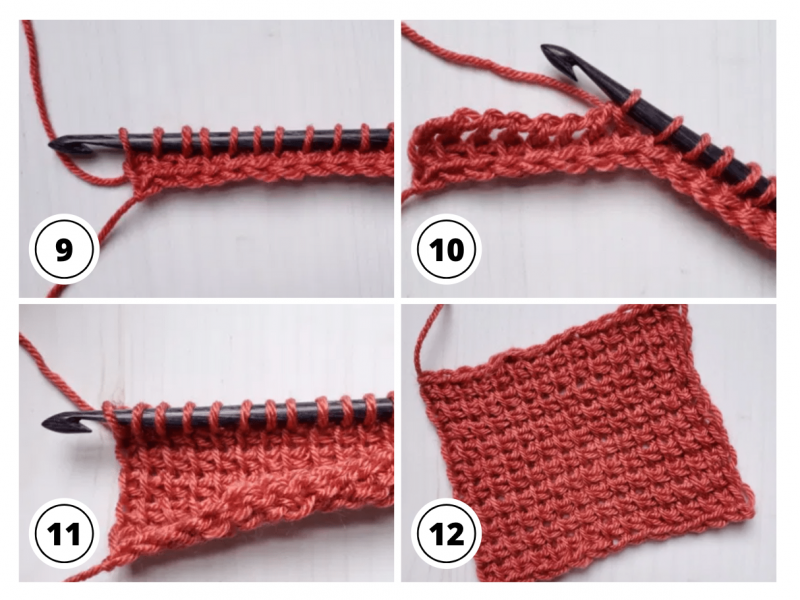 What did you think? Was it difficult?
Happy crocheting!