Crochet Basics: Linen Stitch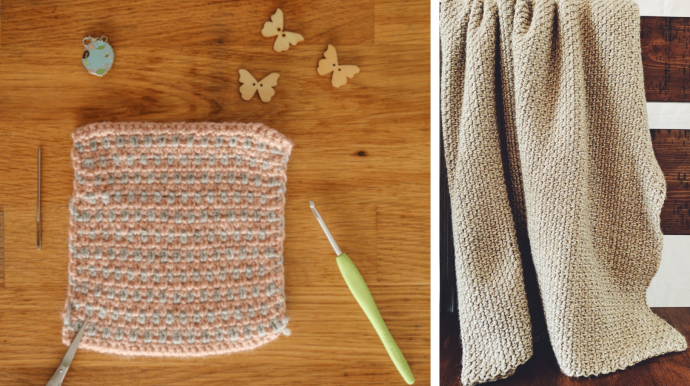 I love simple crochet stitches that I can make a complete blanket, throw, or scarf out of. One of these great stitches is the linen stitch. The crochet linen stitch is an easy crochet stitch perfect for beginners. It combines single crochet and chains to make a woven look fabric. You might have heard this stitch also referred to as the moss stitch, seed stitch, granite stitch, or woven stitch. Whatever you choose to call it, this stitch pattern is easy to work and so incredibly useful. It creates a reversible fabric and it has a nice thick texture, without the fabric being rigid or dense. In this tutorial I will be walking you through an easy method of creating this beautiful stitch.
The crochet linen stitch is a simple combination of single crochet stitches and chains that is worked over 2 rows in a repeated pattern. Single crochet stitches anchor the sides, and the rest of the row works chains over single crochets from the previous row and single crochet stitches in the ch-1 space from the previous row. You can work the crochet linen stitch starting with chains or with foundation stitches.
Abbreviations & Notes
st = stitch
ch = chain
sc = single crochet
2 sc = single crochet twice in the next st
Work instructions between [] the indicated number of times or until the end of the row / round.
The final number of stitches is indicated at the end of the row between < >.
The turning ch 1 doesn't count as a stitch throughout the pattern except if mentioned otherwise.
Stitches above a ch-1 space are worked in the ch-1 space.
To avoid endless ends to weave in I carried over the yarn from one row to the next.
I used 2 strands of main color as they alternate sides.
Instructions
Step 1
With your 4mm / US G- 6 hook ch 31 + 1,
Row 1: In the 2nd ch from the hook sc, sc across, turn.
Row 2: Ch 1, [sc, ch 1, skip 1] until last st, sc, turn.
Step 2
Switch to your contrasting color.
Row 3: Ch 1, sc, [sc in the ch-1 space, ch 1, skip 1] until last 2 st, sc 2, turn.
Step 3
Switch back to your main color.
Row 4: Repeat Row 2.
Step 4
Row 5: Repeat Row 3.
Switch to your contrasting color.
Row 6: Repeat Row 2.
Switch to your main color.
Row 7: Repeat Row 3.
Row 8: Repeat Row 2.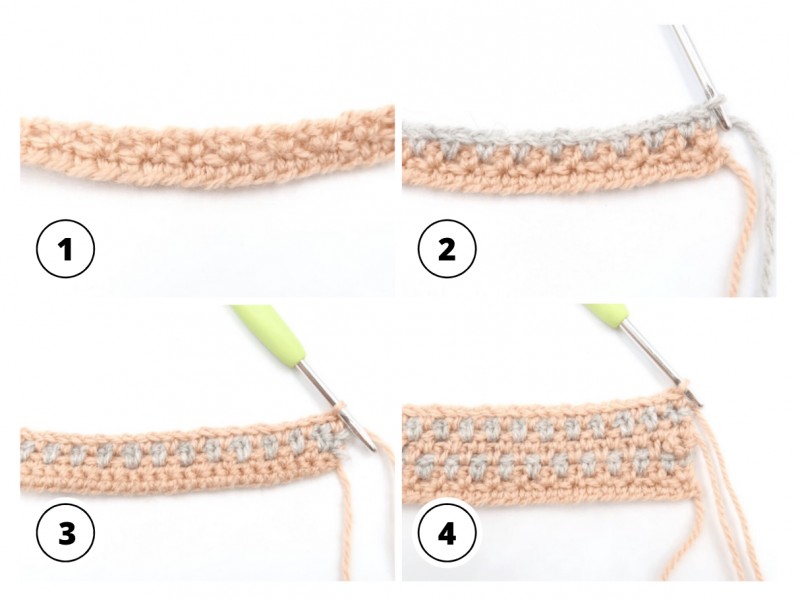 Switch to your contrasting color.
Repeat Rows 3-8 until you reach the desired length, finish on a row 2.
Final Row: Ch 1, sc across.
Fasten off and weave in the ends.
Blocking
You're done with the crocheting part. Make sure to weave in all the ends. To make your stitch pattern even prettier and help straighten your edges, block your project lightly.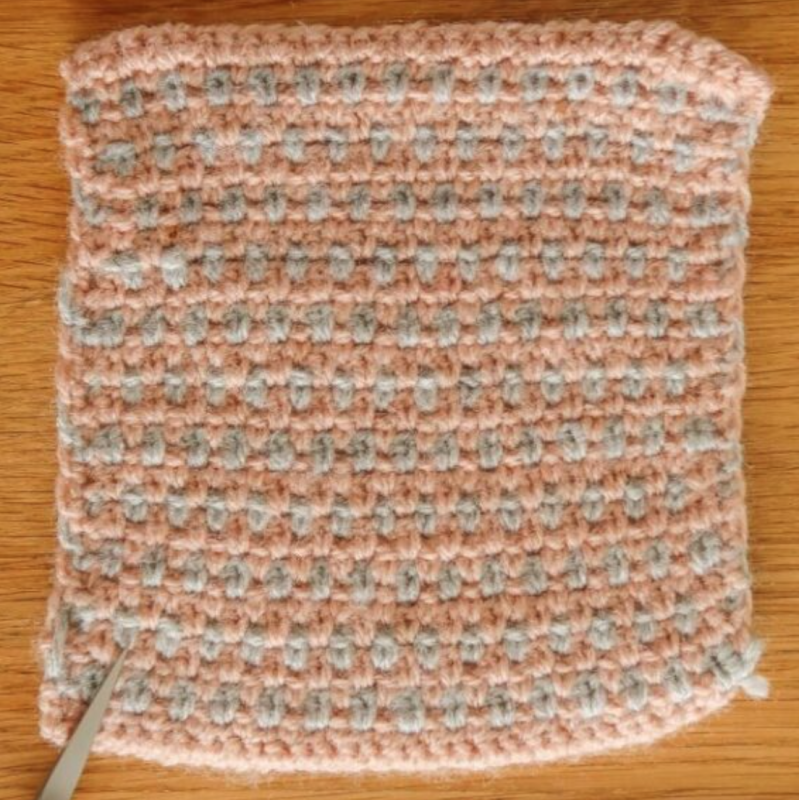 3 Reasons To Love Crochet Linen Stitch
1. It creates better drape.
If you want to make a garment with a simple background stitch, the crochet linen stitch is your go-to stitch! It has a very similar appearance to single crochet, but the added chain stitches make the fabric less dense. This makes it perfect for sweaters, scarves, and other garments that you want to drape along the body.
2. It uses less yarn.
A less-dense stitch pattern also means you're using less yarn. If you're preparing to make a giant sweater, consider working the crochet linen stitch as an alternative to single crochet. Not only will it have nicer drape, your yarn will go farther!
3. It's the most-common stitch for argyle-print color pooling.
Have you tried color pooling the argyle print? The crochet linen stitch will help you achieve near-perfect color pooling!
Do you have any favorite patterns that use the crochet linen stitch? Let me know in the comments below!
Happy Stitching!