Crochet Stitches: Chevron Stitch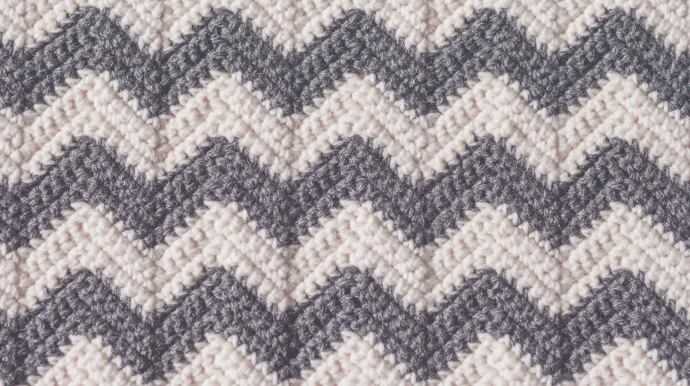 Hello, my dear crocheters! Happy Thanksgiving Day! Today I'd like to show you how to make one of my favorite stitches – the Chevron or ZigZag stitch! The chevron pattern is a bold graphic pattern that recurs again and again as a popular trend in fashion, home decor and even architecture. Chevrons can be found in every type of crochet project including men's crochet ties, women's Missoni-inspired dresses, blankets of all sizes and even designs worked in the round. There are as many ways to crochet chevrons as there are projects they are used on, but they all have a few things in common so once you learn the basics, you'll be able to adapt that knowledge to making all varieties of chevron crochet patterns. Today's lesson will give you that foundation. I will also give you some tips on various color options. So, let's dive right in!
The chevron, also sometimes called a crochet ripple, is an inverted "v" shaped pattern (not to be confused with v-stitch) that might also be seen as a "zigzag". It can be made using a variety of different stitches and techniques, but the most important thing to understand is that it is generally achieved by crocheting the same stitch (such as a double crochet stitch) across a row or round with increases and decreases at regular intervals.
Before I learned of this stitch, I was one of the many who wanted to give chevron a try. And when I say try… I mean tried and failed. A few rows into it, my blanket started spreading wings and I didn't understand why. If this is happening with you, I have good news. The reason why your blanket is growing outward is because you're not counting your stitches or you're just too distracted to keep track of them. Which is totally understandable because life happens. Who has time or wants to count every single stitch? If you're a beginner or you just want to create a beautiful chevron piece without a bunch of brain power, then you're going to love this stitch.
How to crochet Chevron Stitch
1. First, create a chain that is a multiple of 13 + 1. I used 27 chains to start my sample, but I should have done 3 repeats to show how the middle peaks differ. SO, start with a chain of 40.
2. Insert your hook in the 2nd chain from the hook and pull up a loop. Then insert into the next chain and pull up another loop. Yarn over (YO) and pull through all three loops. This is a decrease. Work 4 HDC, then work 3 HDC into the same space. HDC 5 to go down the side of the peak, then skip two chain spaces to create the valley. *HDC 5, 3 HDC into the same space, HDC 5, skip 2 spaces*, repeat this until the last 6 spaces. Then, HDC 4, and decrease over the last two spaces. The first row is done!
3. Chain 1, turn.
Insert your hook in the chain and pull up a loop. Then insert into the next space and pull up another loop. Yarn over (YO) and pull through all three loops.
4. HDC 4, then work 3 HDC into the same space. HDC 5, then skip two spaces. *HDC 5, 3 HDC into the same space, HDC 5, skip 2 spaces*, repeat this until the last side. HDC 4, then decrease over the next two spaces. Leave the last stitch unworked.
5. Now, just repeat step 3 for each row until you get a piece that's as big as you want it. Here is my sample after working the crochet chevron stitch for 10 rows. Again, I only did 2 repeats, but yours should have the 3rd peak. See how easy that is!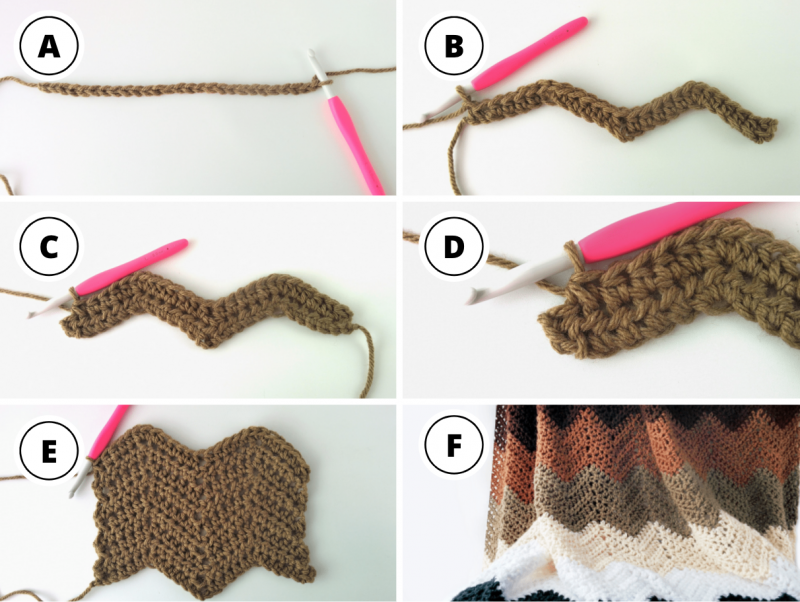 Tips
Chevron crochet can, of course, be worked in a single color but the true effect of the pattern really comes out best when worked in two or more colors. Just a few of the options include:
Alternating two colors. This is especially popular because it replicates the classic chevron pattern, especially when worked in black and white.
Alternating three colors. For example, white/black/brown is a nice combination for any project!
Creating an ombre. The chevron is a particularly great pattern for the ombre effect. Learn how to crochet an ombre.
Rainbow shades. One of the most popular designer inspirations for the chevron in knitwear is Missoni, a brand that frequently uses rainbow coloring and related multi-shaded hues to create brilliant colorful designs
Add a fun twist to your work by using variegated, multi or print yarn for one or more of the rows!
You can alter the impact of your chevron by changing the number of rows between color changes. There is a big difference to the eye when you change colors after every row (creating small stripes) vs. changing them every ten rows (creating color blocking). You can create a very even pattern by changing colors after the same number of rows every time (which is great for an ombre or a rainbow) or create a staggered pattern by varying the number of rows between color changes.
If you like this stitch or if for some reason you're having trouble following this guide, please, let me know down in comments! Happy Thanksgiving Day!