7 Kitchen Organization Hacks: Find a Place For Everything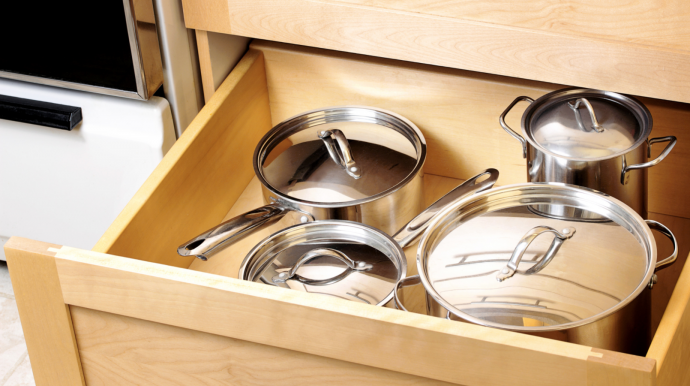 Kitchen seems to always be a work in progress. Moreover, our kitchen is 100% the most disorganized area in our home. Try these kitchen organization hacks that are guaranteed to keep a tidy and well-organized kitchen. They're so simple you'll regret not having tried them sooner! Once you start utilizing these hacks, your time spent in the kitchen will become much more efficient!
Tip 1. Stacked supplies.
Utilize deep kitchen drawers by stacking cutlery trays on top of each other. For easy access, use the top tray for the items that you use most often (everyday utensils, such as can openers, spatulas, and large spoons) and the bottom tray for less frequently needed items (such as spreaders, skewers, straws, and chopsticks). It's a simple matter to grasp the top tray and lift it aside when you need access to the bottom layer.
Tip 2. Corking idea.
Very few tools bring order to the kitchen like a utensil holder. To keep your holder from knocking against the sides of the drawer every time you open and close it, make a better fit with a wine cork. Cut the cork to fill the space between the holder and the drawer, creating a wedge that locks the holder in place.
Tip 3. Keep it quiet.
If you have kitchen cabinets that always slam shut after you reach in for dishes, spices, or other culinary sundries, try slicing a wine cork into thin disks and gluing them onto the inside corners of the cabinets.
Tip 4. Rolling pin perch.
Storing large, awkward rolling pins with handles and ball bearings is often difficult, especially with limited drawer and cupboard space. Here's a clever solution: hang it on the wall. First, measure the distance between the handles of the rolling pin. Next, measure that same distance at a convenient spot on your kitchen wall and mount two inexpensive curtain rod holders or hooks, one at each end. Then simply suspend your rolling pin by its handles.
Tip 5. Dutch oven hangups.
If you're short on cabinet space, consider this trick for alternative storage of your large dutch oven: affix two sturdy coat hooks, spaced about 8 inches apart, to the side of your cabinet. Hang the pot by its handle on the lower rungs and prop the lid on top of the hooks
Tip 6. Better baking mat storage.
Silicone baking mats are often stored rolled, but without a way to secure them, they quickly unfurl. To improve this situation, try laying a large, clean dish towel that's at least as big as the mat on a flat surface. Place the baking mat on top. Starting at a short end, roll the towel over the mat. Tuck the ends of the towel into the tube to secure. Another option is to roll each sheet liner tightly and store it inside the tube from an empty paper towel roll. For liners of various sizes, just cut the cardboard tube to fit. For a more accessible solution, you can keep your baking mat super handy by attaching it to your fridge with a magnetic clip.
Tip 7. Two ways to keep covers under control.
A. Many cooks store their pans and lids in a single drawer. To keep the lids from sliding around and under the pans, install a slender expansion curtain rod at the front of your drawer. The lids stand up straight between the front of the drawer and the curtain rod, always within sight and reach.
B. Rather than installing custom cabinet dividers, try this low-cost solution for storing cookware lids: place a metal file sorter inside the cabinet and load the lids into each compartment. Now, instead of searching through a disorganized heap for the right top to a pot, you can quickly grab exactly what you need.