Easy Crochet Flower + Tips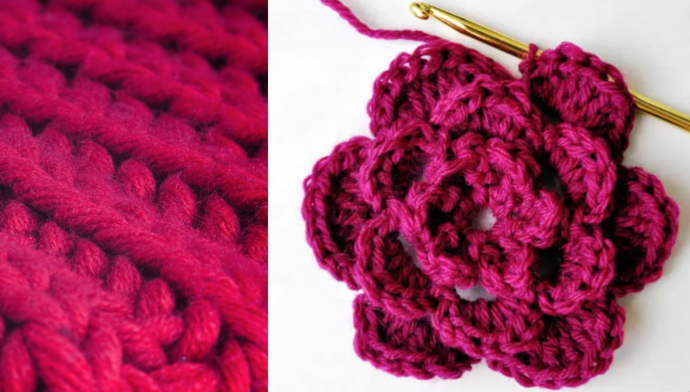 Hello, dear crocheters! Some of you asked me to make the tutorials easy for printing (thank you very much for sharing your thoughts and comments! I highly appreciate that!), and I decided to prepare a 1-page printable as an addition to this post. You will find it below. Today I invite you to focus on the technique of making flower motifs. I'm loving this flower and am so excited about all of its potential uses. It's extremely versatile and is fantastic for a last minute embellishment on any of your awesome yarn accessories. The triple layer of petals is adorable and unique. You can sew it directly onto your project, or I have also lined the back with a felt circle and French clip for a removable accessory. The possibilities are endless! For this tutorial you may use just a basic worsted weight yarn and a size 1 hook. You will also find some of the useful tips here.
Crochet abbreviations:
ch = chain
hdc = half double crochet
sc = single crochet
sl st = slip stitch
st = stitch
Flower Instructions:
Row 1: ch4, sl st to form a loop. *ch3, sl st into loop* repeat 5 times for a total of six ch3 loops. This forms the basis for your first row of petals.
Row 2: Sl st, ch1 into first ch3 loop. In each loop: hdc, dc, hdc, ch1, sl st. Sl st, ch1 into next loop and repeat. Finish first round of petals.
Row 3: ch1, turn flower over. *Insert hook, sl st into middle of the back of the petal. Ch4.* Repeat * five times – 6 ch4 loops. Finish row 3. The ch4 loops provide the base of the next row of petals.
Row 4: Sl st, ch1 into first ch4 loop. In each loop: hdc, 3 dc, hdc, ch1, sl st. Sl st, ch1 into next loop and repeat. If you want to be done at this point, fasten off and leave a long tail to sew onto your finished project. OR if you want to go big and keep going, repeat rows 3-4, increasing the ch loop to 5 and dc in each petal to 5. Usually at this point it's big enough but you can always add another row for extreme flower awesomeness.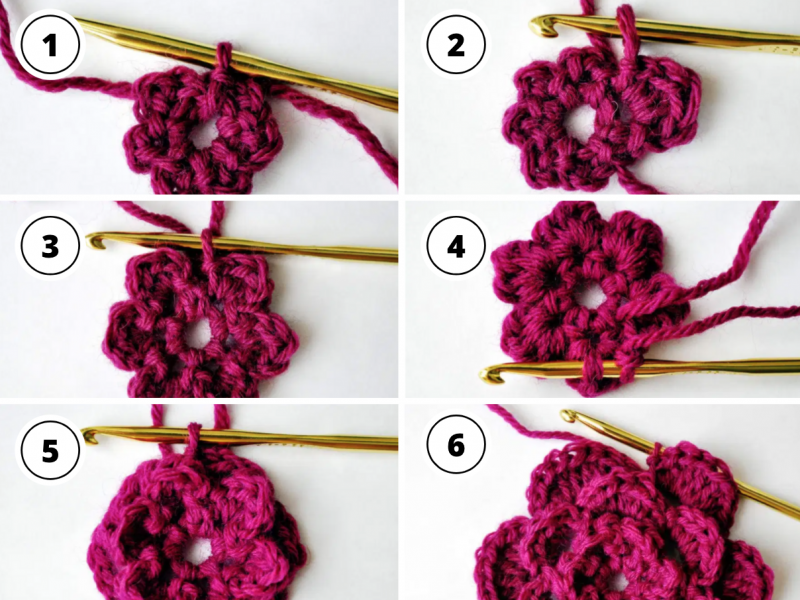 Tips
When I sew the flower on, I fasten around the loops of the edges of the petals of each row, but in the last row (with the largest petals) I also sew a tiny stitch into the middle of each petal. This keeps the flower from curling up, and then it looks a lot smaller.
I prefer to leave the long tail for fastening at the beginning (before you ch4 into a loop) and work my way out when I fasten, but that's a matter of preference.
If you do choose to attach the flower to a clip, depending on how big the flower to clip ratio is, I tend to attach the clip towards the 'top' of the flower in the back. This way the flower doesn't flop over and look very sad.
If you want to make it bigger, you can just increase the hook size. I've gone all the way up to a K hook on the last row of petals and added a few extra dcs in each petal.