Crochet Tutorial: Easy Lacy Border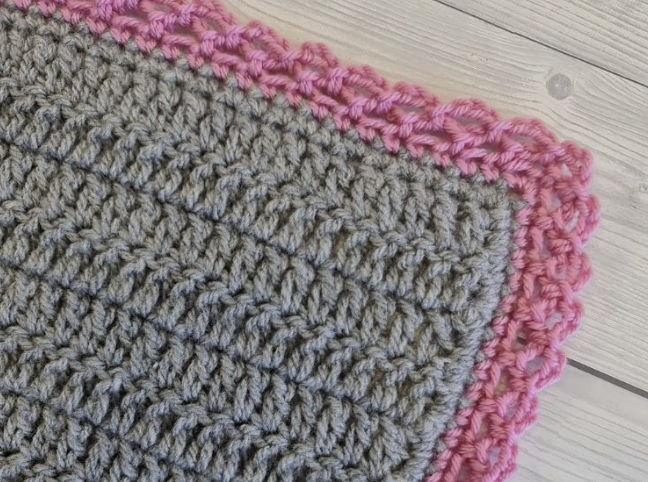 Adding a border to your crochet project can give it a finished and polished look. A simple but elegant way to add a border is with the easy lacy border, also known as the chain border. This border consists of a chain stitch pattern that creates a delicate and airy design. In this tutorial, you will learn how to crochet this beautiful border step-by-step with the help of photos and a video tutorial. Whether you're a beginner or an experienced crocheter, this easy lacy border is a great way to add a touch of sophistication to your crochet project.
This Easy Lace Border, also known as the Chain Border, is as easy as it gets but gives a beautiful frame to your blanket.
The Lacy Border is constructed with overlapping clusters of double crochet stitches crocheted around the border, each 3 stitches wide.
It doesn't require a special pattern for corners and that makes it a beginner-friendly pattern that can be adjusted to any project.
It works great for any kind of edge, from square and rectangle projects such as blankets and afghans to triangle edges such as shawls or straight edges such as scarves. You can even crochet it on a round edge such as a dress.
Instructions
TIP: if you want a thicker border, repeat round 2 as many times as you like.
this border requires you to have even numbers of stitches, but if you don't, I am showing you in the video tutorial how to adjust the pattern
the section between ** is the section that needs to be repeated
this border is crocheted in the round without turning, each round is closed with an sl st
Base:
Start with a base row to make stitches all around your blanket. My base row is made out of single crochet stitches.
Start in one corner and make 3sc. Crochet along the edge and make 3sc in each of the corners.
When you have reached the beginning of your round, sl st in the first sc you have made, then sl st in the next stitch to bring the yarn in the corner.
Round 1: *Ch5, sk2, sl st in next*, repeat from * until you have crocheted all around the blanket (make sure your slip stitches end up in the corner stitches). Your last slip stitch should end up in the very first stitch you have started in.
Round 2: 2sl st into the next ch5 space, *ch5, sl st into the next ch5 space*, repeat from * until you have slip stitched into the last ch5 space, ch5, sl st in the second sl st you have made at the beginning of the round.
(OPTIONAL) You can modify this border and make more or fewer chains and also skip more or fewer stitches. In this pink version I have made, I skipped 1st and I chained 3.