Crochet Large Blocked Puff Stitch Tutorial
The large blocked puff stitch is a fun and versatile crochet stitch that can be used to create a variety of designs. It's perfect for blankets, scarves, and other cozy accessories. This tutorial will show you step-by-step how to create this stitch, along with tips and tricks to ensure your project turns out beautifully. With just a little practice, you'll be able to master this stitch and incorporate it into your next crochet project.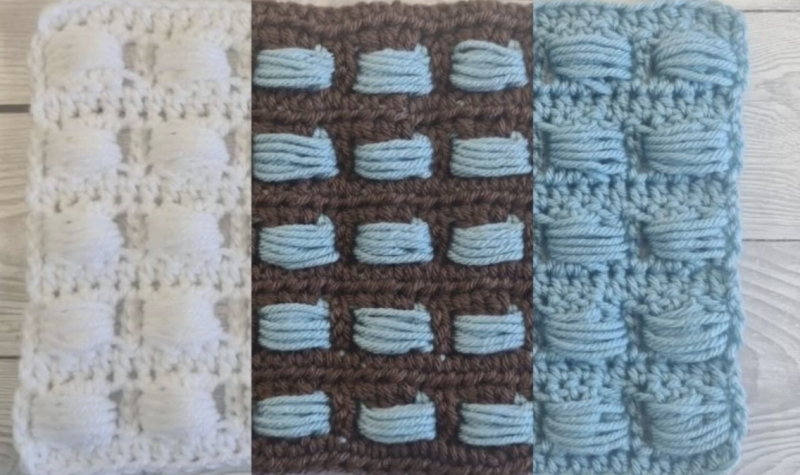 The Large Blocked Puff Stitch is a two-row repeat crochet pattern made with treble stitches onto which you create large puff stitches and the process creates a beautifully textured fabric that looks like embossed bubbles on either side.
It works great for afghans, baby blankets, garments and accessories where you want to show off both sides.
The two-row repeat pattern is easy to master and after a few rows, you won't need to reference the pattern anymore.
Instructions
ch1 at the end of each row does not count as a stitch
stitches contained within ** are the repeat section for that row
Starting Chain: This pattern requires you to chain multiples of 5chs + 2chs. My starting chain is 27ch.
Row 1: Hdc in 2nd ch from the hook, hdc in each remaining chain (the total stitch count is 26sts)
Row 2: This is a more complex row, I will break it up into steps.
Step 1: Tr in the next 4sts (the first in the row is an sc + 3chs).
Step 2: Rotate your work so the treble posts are now horizontal.
Step 3: *Yo, insert the hook between the 1st and 2nd tr posts, yo and pull up a very long loop*, repeat from * 5 times in total (11 loops on your hook).
Step 4: Keeping the loops on the hook, insert your hook into the next stitch, yo and pull up a small loop, yo and pull through all 12 loops on your hook.
Step 5: Insert your hook into the next stitch, yo, and pull up a loop.
Step 6: ch3 (2 loops on the hook), yo and pull through both loops on the hook (this creates a new treble stitch).
Repeat Steps 2 – 6 until the end of the row, ch1, turn
Row 3: Hdc in each stitch across, turn.
Repeat rows 2 & 3 until you have the required length for your work.