Homemade Tote Bag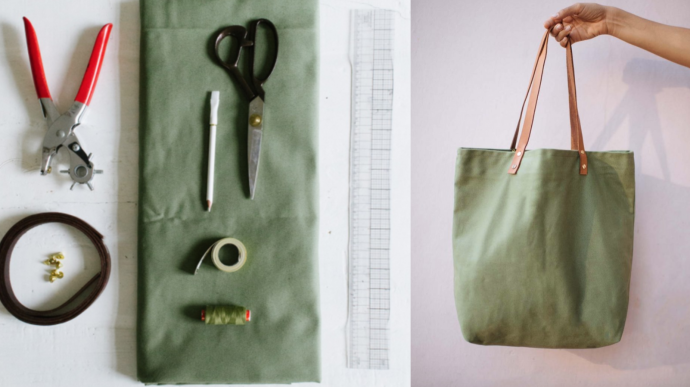 Today I'd like to share with you a simple tote bag pattern to walk you step by step through how to make a useful tote at home. This homemade bag is a great project for any level of sewing expertise. It's simple enough for beginning sewers, and universally practical enough to be worthwhile for anyone. I've made several and I use them all the time for shopping or carrying stuff. They also make great gifts! You'll find a printable pattern and instructions here as well.
You will need
1.5 meters fabric
fabric scissors
color thread
measuring tape
leather
hole punch
rivets
Instructions
Step 1
Start by drafting the pattern of the bag onto the wrong side of your fabric.
Step 2
Leave seam allowance and cut. This is what your fabric piece should look like after cutting.
Step 3
Serge the edges of the fabric first. Since I don't have an overlock machine, I use a zigzag stitch to serge the edges.
Step 4
Pin and sew down the side seams of the bag, but leave the corners open.
Step 5
Open the corners of the bag. Fold the corner, matching the center fold on the base with the side seam. Sew across to secure the corner.
Step 6
This is what the completed base will look like after you sew the corners shut.
Step 7
Flip the bag right-way out. Fold down the top seam and sew it shut. I suggest leaving a wider seam allowance to increase the thickness of the top edge as it will help reduce wear and tear where the leather straps will be attached later on.
Step 8
Finally, attach your straps by lining them up and then punching holes in the fabric. Screw the studs on. That's it! Your bag is ready to use!
The great thing about this bag is that you can literally make it in any fabric – like other canvas colors (if you have any extra canvas at home), but also leather, suede and any other style you prefer. It's so very versatile. Enjoy!